CIT Staff and Students win at ACT Training Awards
Published: 16 Sep 2022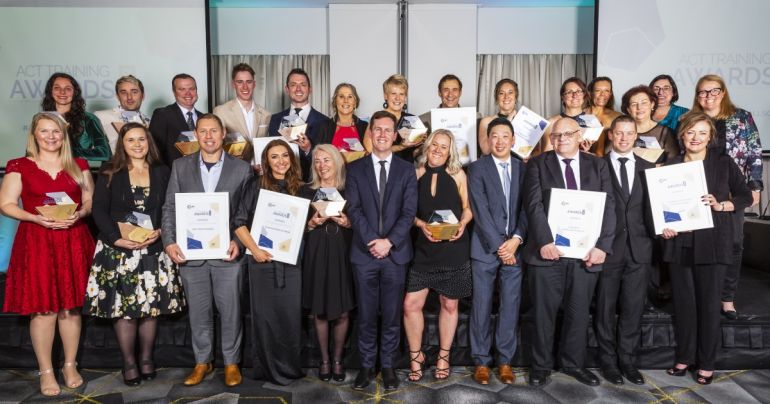 The Canberra Institute of Technology once again excelled at the 2022 ACT Training Awards last night, winning in six categories:
ACT Large Training Provider of the Year
ACT Industry Collaboration Award
ACT VET Teacher/Trainer of the Year – Richard Lindsay
ACT Aboriginal and Torres Strait Islander Student of the Year – Justin Drew
ACT Australian School-based Apprentice of the Year – Josh Haynes
John Scott Memorial Award – Jane Clark
Interim CIT CEO, Christine Robertson, said the teachers, staff and students at CIT were key to the organisation's success at the Awards.
'These awards are, in no small part, a fitting recognition of the talent, perseverance, innovation, dedication, and passion of the CIT's students, teachers and staff – and I am so proud of them,' Ms Robertson said.
'CIT plays a major role in developing the ACT's future workforce and building the skills base of the post-pandemic economy in a rapidly-changing and diversifying world.
Teachers Jane Clark and Richard Lindsay, who won the John Scott Memorial and the VET Teacher/Trainer of the Year awards respectively, were recognised for their work in Hairdressing and Barbering, and in Electric Vehicle Program Development and Training, and for their strong dedication to the VET system over many years.
Justin Drew, who won the ACT Aboriginal and Torres Strait Islander Student of the Year Award, studied a Diploma of Government (Project Management) at CIT Solutions and is a trainee with Services Australia.
Josh Haynes from St Mary MacKillop College won the school-based apprentice of the year award.
CIT's partnership with Clubs ACT and the ACT Education Directorate on the Ginninderry Spark Pathway Program, which provided training, support, and opportunities for employment in the hospitality workforce, was recognised with the Industry Collaboration Award.
Ms Robertson said that the CIT remains committed to the delivery of high-quality VET programs and support services locally, nationally, and internationally.
'We train over 20,000 students each year across the region. These awards are a wonderful recognition of the work we do and commitment to post-secondary education and the excellent achievement of our students, and a testament to the dedication and passion of our teachers and staff.'
---