White Card
Our web based White Card course has recently been approved by the ACT Regulator (Work Safe ACT).
General Construction Induction (CIT White Card Training)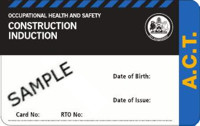 National code compliant safety training for workers in the ACT and NSW construction industry. (CPCCWHS1001 Work safely in the construction industry)
All persons on a construction site must complete WHS Induction training and obtain the General Construction Induction (White Card Training) before they are permitted on a building site.
COST: - $130*
*A rebate may be available to eligible participants from the Training Fund Authority (TFA).
Note: The ACT Training Fund may offer a rebate for eligible people employed in the ACT construction industry. To find out how to apply for the rebate, visit trainingfund.com.au/apply/
If you are eligible for a rebate, DO NOT enrol in the White Card online.
Please contact CIT High Risk and Renewables on (02) 6207 8027 or email: highriskandrenewables@cit.edu.au, to complete the details required for the TFA Rebate, PRIOR to enrolling in the course.
Payment
Payment for the White Card course can be made in person at CIT Student Services at CIT Reid, CIT Bruce, CIT Fyshwick, CIT Gungahlin and CIT Tuggeranong.
Please note: EFTPOS payment is no longer available. Staff can assist students to pay with debit/credit cards via CIT Self Service. For more information on all payment options visit 'How to Pay'.
Payment must be made prior to the course start date.
Identification
On the day of the course, you will need to show 100 points of ID. These include:
MANDATORY - one of the following (Birth Certificate / Australian Passport / Citizenship Certificate / International Passport + Visa)
One photo ID (E.g.: Drivers Licence / Proof of age / WWVP card)
For information on other accepted forms of ID and points please view the Proof of Identity page.
About the course
There are no prerequisites for this course.
You need to have access to a working web camera for this course. You also need to have Personal Protective Equipment (PPE) including a hard hat, high vis vest, ear protection and eye protection.
PPE pick up: At this stage there will be no PPE pick up on campus. Students will still need to supply their own PPE until CIT opens up for normal operation and CIT cannot send this equipment out in the mail.
All students who do not have PPE can still enrol and complete most areas of this course. These students will be permitted to do the PPE Demonstration component at a later date (after lockdown, when they can safely collect PPE) - however your grade will remain pending until this component is completed.
Important: Students will not be able to apply for their white card through Access Canberra until all components of this training is complete and they have received a Pass grade.
Persons that satisfactorily complete the competency will be eligible to apply for the National Construction Induction Card. You have 60 days from issue of transcript to apply for your card. Applications are made online via the Access Canberra Website. The cost will be $39 and is payable at the time of applying for the card.
Upcoming courses
Program: SA-TS25
CRN
Date
Time
Location
FULL
14 December 2021
8am to 4:45pm
Online
FULL
16 December 2021
8am to 4:45pm
Online
Semester 1, 2022
81348
1 February 2022
8am to 4:45pm
Online
81350
3 February 2022
8am to 4:45pm
Online
81351
8 February 2022
8am to 4:45pm
Online
81353
10 February 2022
8am to 4:45pm
Online
81354
15 February 2022
8am to 4:45pm
Online
81356
17 February 2022
8am to 4:45pm
Online
81357
22 February 2022
8am to 4:45pm
Online
81359
24 February 2022
8am to 4:45pm
Online
Step 1 - Apply
Your application type is "Skills training"
Step 2 - Enrol
You will need to enter your class reference number (see above table)
If you require assistance with your online enrolment please contact Student Services on 6207 3188 or email infoline@cit.edu.au
If you plan to enrol on the day please also contact Student Services one working day prior to the scheduled class to confirm the class has not been postponed or cancelled. Those who have enrolled will be notified by email should the class be postponed one day prior to course date.
Course List
AA | ASbA - these courses are available as apprenticeships, traineeships or Australian School-based Apprenticeships (ASbAs). See above for availability, or contact CIT Student Services on (02) 6207 3188 or infoline@cit.edu.au.
Delivery - FT = Full-time, PT = Part-time, ON = Online, FL = Flexible.
---