White Card
Don't be caught, the ACT Regulator does not accept certificates from courses completed online.
General Construction Induction (CIT White Card Training)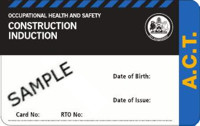 National code compliant safety training for workers in the ACT and NSW construction industry. (CPCCWHS1001 Work safely in the construction industry)
All persons on a construction site must complete WHS Induction training and obtain the General Construction Induction (White Card Training) before they are permitted on a building site.
COST: - $120*
*A rebate of up to $65 may be available to eligible participants from the Training Fund Authority.
Note: The ACT Training Fund may offer a rebate for eligible people employed in the ACT construction industry. To find out how to apply for the rebate visit http://www.trainingfund.com.au/apply/
Note that Training Fund Authority requires your application to be approved under their authority PRIOR to the course beginning.
PAYMENT:
Can be made in person at CIT Student Services at CIT Reid, CIT Bruce, CIT Fyshwick, CIT Gungahlin and CIT Tuggeranong. We accept payment by EFTPOS or credit card. Payment must be made prior to the course start date.
IDENTIFICATION:
You will need to bring proof of ID to the class. Please bring three forms of ID. These must include:
photo ID
ID showing your date of birth
ID showing that you are an Australian or New Zealand citizen (eg passport, medicare card).
ABOUT THE COURSE
Persons that satisfactorily complete the competency will be eligible to apply for the National Construction Induction Card. You have 60 days from issue of transcript to apply for your card. Applications are made online via the Access Canberra Website. The cost will be $39 and is payable at the time of applying for the card.
PRE REQUISITE: None
Schedule
Step 1 - Apply
Your application type is "Skills training"
Step 2 - Enrol
You will need to enter your class reference number (see above table)
If you require assistance with your online enrolment please contact Student Services on 6207 3188 or email infoline@cit.edu.au
If you plan to enrol on the day please also contact Student Services one working day prior to the scheduled class to confirm the class has not been postponed or cancelled. Those who have enrolled will be notified by email should the class be postponed one day prior to course date.
Course List
AA | ASBA - these courses are available as apprenticeships, traineeships or Australian School-Based Apprenticeships (ASBAs). See above for availability, or contact CIT Student Services on (02) 6207 3188 or infoline@cit.edu.au.
Delivery - FT = Full-time, PT = Part-time, ON = Online, FL = Flexible.
---