Student Information Guide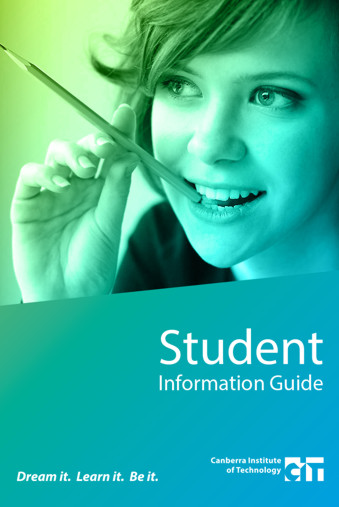 Unofficial Transcripts
You can check your academic record at any time during your study, unless you have a hold on your record that stops you from accessing your grades. Unofficial Transcripts are available at any time via the CIT website under Current Students - CIT Self Service or during opening hours from CIT Student Services on your campus.
Official Academic Transcripts
If you need an official record of your results before completing your course for a job interview or because you are leaving Canberra and are unable to complete your course with CIT, an Official Academic Transcript will show all subjects achieved in your course and is an official CIT document. (Please note if you are withdrawing from your CIT course, please advise CIT Student Services by calling (02) 6207 3188 or email infoline@cit.edu.au).
To obtain an Official Academic Transcript you need to fill in the Request for CIT Academic Documents online form. The form may also be accessed from the CIT website under Current Students - Student Forms. There is no charge for the first Official Academic Transcript (one copy only) for the program you are currently studying or if you have achieved additional grades since you last requested a transcript.
When requesting an Official Academic Transcript from CIT, you will need to supply your CIT student number, your date of birth, an up-to-date mailing address, the program code and the name of the program.
Competency Cards
CIT Competency Cards are issued to students on the completion of specific competencies to meet industry requirements.
ACT Year 12 Certificate course
The ACT Year 12 Certificate is awarded by the ACT Board of Senior Secondary Studies. For more information on this Certificate visit bsss.act.edu.au or talk to the CIT Year 12 staff.
Apprentices and Trainees
Apprentices/trainees must have their on-the-job competencies validated and signed off by both their CIT teacher and employer before program completion documents can be issued. For further details contact CIT Apprenticeship Officer on (02) 6207 7823.
Request for Replacement or Additional Academic Documents
If you have lost or damaged your original Testamur, Official Academic Transcript or Competency Card, you are able to apply for a replacement. You need to fill in the Request for CIT Academic Documents online form. Fees apply for the replacement of academic documents; please refer to the fee schedule below.
A completed Statutory Declaration needs to be provided with your request for replacement when an original Testamur or Trade Paper cannot be returned to CIT and requires re-printing due to loss, damage, or a name change.
If you are applying for replacement documents due to a name change you must provide certified copies of change of name documentation from the Registry of Births, Deaths and Marriages.
Once your request is received we will contact you to confirm the fees payable, and email you an invoice for the replacement cost if you wish to proceed. Following payment, please allow 10 working days for your application to be processed.
If your request is urgent, you can choose to pay an additional charge of $40.00 for priority processing. Your documents will be available 48 hours after you provide us with a copy of your receipt for payment. Priority processing does not apply for academic records older than 1998.
Fee Schedule - Academic Document Replacement
Year of Completion
Item to be replaced
Replacement Cost
Issuing Service Standard
2004 - present
Trade papers
$50
2 weeks
1998 - present
Academic transcripts/specialisation statement
$20
2 weeks
2010 - present
* Competency Cards
$20
2 weeks
3 years ago or less
Testamur and transcript
$50
2 weeks
More than 3 years ago (back to 1998)
Testamur and transcript
$75
4 weeks
For academic records issued prior to 1998 (from archives)
Typed transcript of academic record including completion status if applicable
$100
8 weeks
Note: Concessions do not apply to academic document replacement costs
Any student who feels they should be exempt from paying the replacement fees may present their reasons in writing via email awards@cit.edu.au, and will be considered on a case-by-case basis by the Manager, Awards and Programs.