Innovative training solution fuels hospitality industry
Published: 13 Mar 2019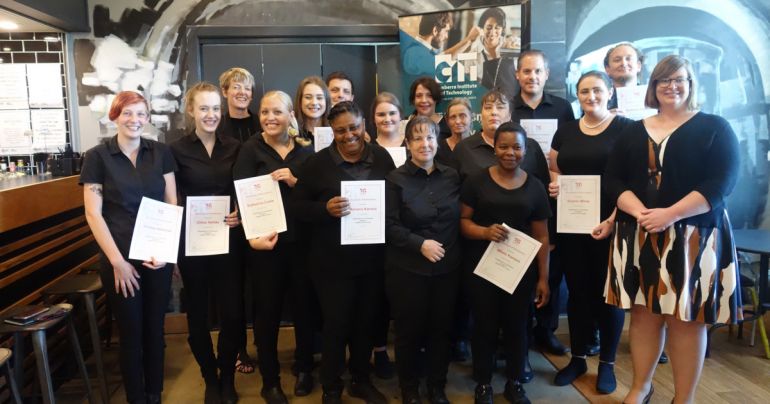 The Canberra Institute of Technology (CIT) has partnered with Capital Hotel Group, ACT Government, the Department of Jobs and Small Business and JobActive Providers to address a critical skills gap in the local hospitality industry, delivering a pre-traineeship program to 17 local jobseekers.
The 10-day program delivered by CIT gave participants foundation skills training to successfully prepare them for the hospitality workforce.
At the completion of the program successful participants will gain employment with the Capital Hotel Group and a pathway to a traineeship.
Group General Manager of Capital Hotel Group Jackie Mckeown said they identified a need to gain skilled employees for the opening of a new hotel in March 2019.
"Hospitality is an amazing industry that offers a variety of roles such as Front Office, Food and Beverage and Housekeeping," Ms Mckeown said.
"This program was a great opportunity for those to gain skills in the industry and gain understanding of what the industry entails."
The training had a hands-on, practical focus incorporating live experience in the CIT café and access to CIT's unique simulated training facilities and equipment.
19-year-old Sophie White said the course has given her skills not just for a job now but for life.
"This opportunity has taught me so many new aspects of the hospitality industry and has really boosted my confidence so I'm ready to work," Sophie said.
Sophie plans to keep doing what she loves - working with people - and hopes to progress through the hospitality industry to pursue her dream of becoming a wedding planner.
The project was supported by funding from the Skilling Australians Fund, a project-based National Partnership Agreement with the Australian Government to meet the needs of industry and increase the number of apprentice and trainee commencements.
To find out more about how CIT can help grow your workforce, please contact bd@cit.edu.au
---