Industry speed-dating event at CIT
Published: 20 Apr 2021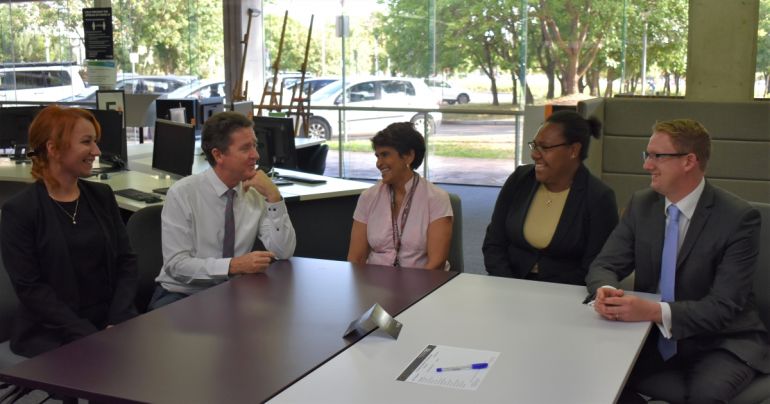 CIT accounting students recently took part in an industry "speed-dating" event hosted at CIT Reid Library, where they got to meet a range of possible employers from the accounting industry.
The speed-dating event is used to match employers and Advanced Diploma in Accounting (FNS60217) students, and after the event, all students who participated were placed with an employer as part of their accounting studies.
The event organiser, CIT Accounting teacher Philip McGuire, said the event was an opportunity for CIT accounting students to speak to industry representatives from a range of different organisations about the sorts of roles on offer in the job market and what skills they need.
CIT student Oksana Drozd is completing a Diploma in Accounting (FNS50217) while taking also courses for the Advanced Diploma in Accounting (FNS60217). She chose to study accounting at CIT because of her previous experience in the industry in her home country of Ukraine. "The huge benefit of studying accounting is it has a lot of different branches like financial, cost, tax accounting and auditing. This increases my chances to choose any of them," Oksana said.
"Speaking directly to industry members gave me an opportunity to meet many prospective future employers. I learnt how to present myself, what questions to ask and how to answer them. I also got some tips on what areas of my CV should be improved."
Advanced Diploma in Accounting (FNS60217) student Shelomith Simbiken spoke to 11 employers at the event and said, given the opportunity, she would work with any of them. "I learned a lot from the event. It helped me connect with different employers and better understand what kind of work is done in their organisation. It gave me an insight into what to expect on a typical day at work."
One industry representative was Shanez de Silva, Senior Director, Business Services, ACT Corrective Services. Shanez said part of the benefit of attending an event like this was to provide participants with opportunities to build their understanding of the ACT Government, as well as to gain skills and experience.
Overall, she said her organisation was looking for applicants who showed "enthusiasm in applying theories in accounting in a workplace." This was something that she saw in all of the CIT students she interviewed.
Learn more about Accounting at CIT.
---