Nigerian student establishes humanitarian foundation
Published: 09 Sep 2019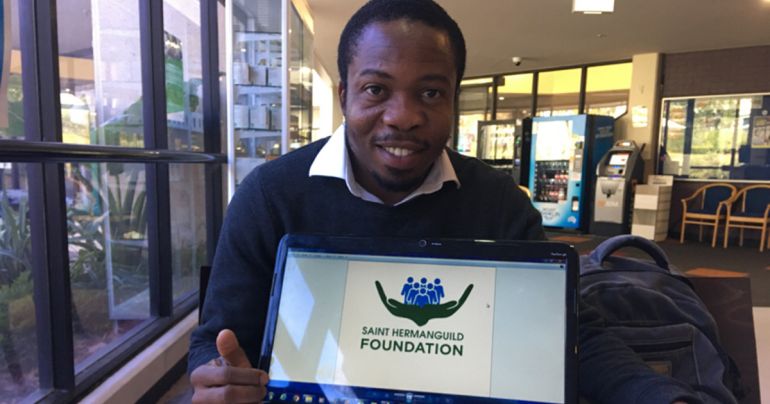 International CIT student Uzomanze Ifeanyi Hermanguild is on a mission to improve the lives of those struggling with disability and mental health issues in his native Nigeria. It is not an easy undertaking but confidently he said, "I am ready for the task."
Ifeanyi graduated in English and Literary Studies from Imo University in Nigeria, but it was through providing support to people living with disabilities and mental health issues in Australia that he realised the potential opportunity to help communities back home. Ifeanyi completed a Certificate IV in Mental Health (CHC43315) and is currently pursuing a Diploma of Community Services (CHC52015). "I am happy to study in Australia. If I had not studied here, and seen what is achievable, I would have not been able to help others," he said.
Putting his skills to good use, Ifeanyi established the Saint Hermanguild Foundation. The foundation's mission is to support people living with disabilities and mental health issues, and provide them with a range of assistance to enhance their wellbeing and promote independence. "I am passionate about supporting people and assisting them to regain their values," said Ifeanyi, who credits the development of his ideas and zeal to his CIT studies.
"The teachings I received were well explained and inspiring. I am pleased to say that through my studies, I have all it takes to build up my organisation and look after people living with disabilities and mental health," he said.
Among the board members who volunteer their time and knowledge to run the foundation are dedicated humanitarians, medical practitioners in Public health, teachers, members of the clergy and Ifeanyi's wife. "She is always on the ground and doesn't shy away from responsibilities," Ifeanyi said.
The foundation's logo depicts a group of people standing on the palm of two joint open hands. Ifeanyi explains, "The space in the hands shows that we have no limit of number we can carry. We do not discriminate, and we support all people from different culture, religion, belief and race."
Ifeanyi is grateful for the advice and support of his CIT teachers and the skills he has learned to help him bring about change.
Learn more about CIT's Community Services and Development and Mental Health courses
---