Emma wins at Australian Training Awards
Published: 21 Nov 2023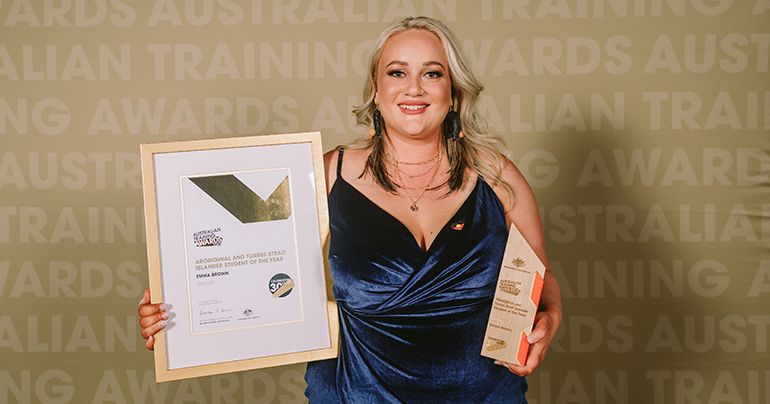 Struggling with dyslexia at school and becoming a mum at 17, Canberra's Emma Brown said she never imagined pursuing further education.
Now Emma is considering more study options with Canberra Institute of Technology (CIT) after being named Aboriginal and Torres Strait Islander Student of the Year at the Australian Training Awards in Hobart last week.
Emma was recognised for her achievements during the 12-month Indigenous Apprenticeship Program (IAP) with CIT Solutions, which included a Diploma of Government and full-time employment as a Customer Service Officer with the Civil Aviation Safety Authority (CASA).
Emma dedicated her award to 11-year-old son Zachary, but said she'd also surprised - and motivated - herself.
"This is all for my son, 100 per cent, he was watching the awards on the live live-stream with my dad and said 'I'm famous' because I gave him a shout-out in my speech," Emma said.
"I wanted to show him good work ethic and that anything's possible if you put your mind to it. It was about creating a better future for me and my son.
"I really didn't enjoy school growing up, it was only when I got to college and I started to get support from teachers who recognised that I need to learn in a different way. They helped me believe in myself.
"I never thought in a million years I'd want to continue study, but now I'm looking at other CIT courses I could do, including what's available through CIT Yurauna [CIT's dedicated Aboriginal and Torres Strait Islander Educational Centre of Excellence]."
The Indigenous Apprenticeship Program (IAP) is administered in partnership between CIT Solutions and Services Australia. The IAP aims to prepare First Nations learners for successful careers in the Australian public services and has had more than 1,500 graduates in the past four years.
Emma acknowledged her teacher, Robyn Watson, with CIT Solutions. "I wouldn't have been able to do it without her, she was so supportive and explained things to me in different ways until I understood."
A proud Ngemba woman, Emma said she's enjoyed the week of professional networking that had led up to the Australian Training Awards.
"The whole week was a real spiritual experience, being welcomed on to country and getting to learn with the other finalists. It was so special to win the award, I couldn't believe it, it was surreal."
CIT was also represented at the Australian Training Awards by two other finalists, Peter Redfern-Elliot (Finalist VET Teacher/Trainer of the Year) and Poppy Chalmers (Finalist Australian School-based Apprentice or Trainee of the Year).
---