Floristry stylist, registered nurse and ACT Vocational Student of the Year
Published: 23 Sep 2020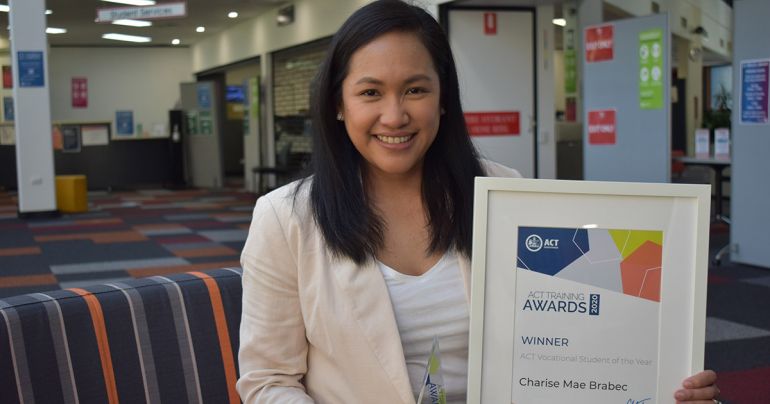 A Registered Nurse with 15 years of experience in Australia and overseas, Charise Mae Brabec was keenly aware of her creative flair and driven to open a weddings and events floral design and styling business. Her CIT Certificate III in Floristry (SFL30115) gave her the skills and confidence to achieve her goal.
Charise watched the virtual 2020 ACT Training Awards ceremony with her mum and was surprised when she was named ACT Vocational Student of the Year. Charise said, "I was really not expecting it. I simply did what I wanted to do. I pursued my passion and enjoyed it."
She enrolled at CIT pregnant, and at 38 weeks Charise was studying and working full-time at Canberra Hospital. "What I really liked about CIT, at times when I was not feeling well, was the flexibility and support of my teachers," Charise said.
Despite the demands of her family and work life, Charise remained steadfast as she valued the impact of the course on her creativity and skills. "I now have all of the techniques, design background and problem-solving skills to offer my unique floristry style through my business."
On Mother's Day this year, Charise launched her business miChic Weddings & Events (pronounced 'My Chic') offering bespoke floral designs for weddings and events. She still reaches out to her CIT teacher Narelle Phillips and trusts her advice, as she said, "Narelle pushed me to reach outside my comfort zone and gave me the foundation to develop my own style."
Through CIT Charise built her early connections to the floristry sector including a network of supportive fellow students and teachers. "Starting a business was my goal and I am now building a brand and reputation in the industry," Charise said.
---