Student Stories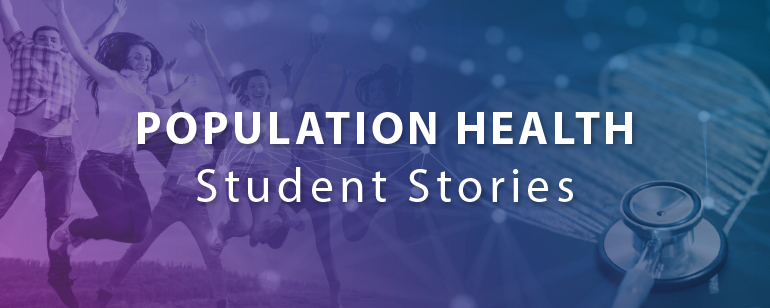 "After years in various nursing roles I decided it was time for me to study again and the Certificate IV in Population Health course really sparked my interest. Through the course I have gained a better understanding of why people from different locations and demographic groups are affected by particular health conditions, and it's been wonderful to learn ways we can work within the community to improve health outcomes.
The flexibility of the course while balancing full-time work and family life was ideal, and the support provided by CIT staff was exceptional.
I would highly recommend the course to anyone interested in learning more about the health-related challenges that affect our society in so many ways" Kate Lehmensich, 2018 graduate
---
"The Certificate IV in Population Health is an interesting and useful course. It is completely up to date with current public health issues and trends. I have recently retired and plan on going into the population health field as my third career.
I have every confidence that I will secure employment. I do not have a clinical background, but that was not an issue, this course is more research based.
The teaching is excellent and the flexible learning is very helpful." Elizabeth Rogers, 2018 graduate
---
"I enrolled in the Certificate IV in Population Health because I thought it would be a solid introduction into the health field. It did not disappoint!
It was really interesting to learn about the history and principles of managing the health issues and priorities of a whole population as opposed to individuals.
It gave me a new perspective and appreciation for the challenges faced daily by those working in a field with infinite needs and finite resources.
The practical aspects of the course were really great - we designed and undertook real projects, looking at real issues and speaking with real people. I chose the smoking cessation stream for my 'specialty' and this helped me to learn and understand the nature of addiction, which I really valued.
My teachers were always supportive and very knowledgeable. I thoroughly enjoyed this course!" Jessica York, 2018 graduate
---
"The course provides a very well structured and practical approach to gaining knowledge and skills in population health.
I really valued the ability to undertake the course via online learning and the CIT staff made it one of the most informative and supporting learning opportunities I've ever undertaken!
There was a great mix of theory and project work so we were able to apply learnt skills in a practical way in the real world. I cannot recommend this course enough!" Michael Shaw, 2018 graduate
---
"Studying the Certificate IV in Population Health at CIT has given me the knowledge and skills to implement a Healthier Work program in my workplace.
I've had very good support and encouragement from my teachers, they are always happy to provide feedback and advice whenever I need it.
The course material is well paced and has allowed me to learn both theory and practical aspects of my chosen subject. " Marianne Swientek, 2018 graduate
---
"The Certificate IV in Population Health taught me a wide range of skills in public health that I have been able to apply in work in the health industry and in other areas.
The most useful units were the ones that taught us how to practically apply our skills to manage a campaign.
All the teachers were supportive and knowledgeable and the online work was flexible and easy to manage. " Clare Moore, 2017 graduate