Why WorldSkills is a winner for ACT
Published: 18 Aug 2023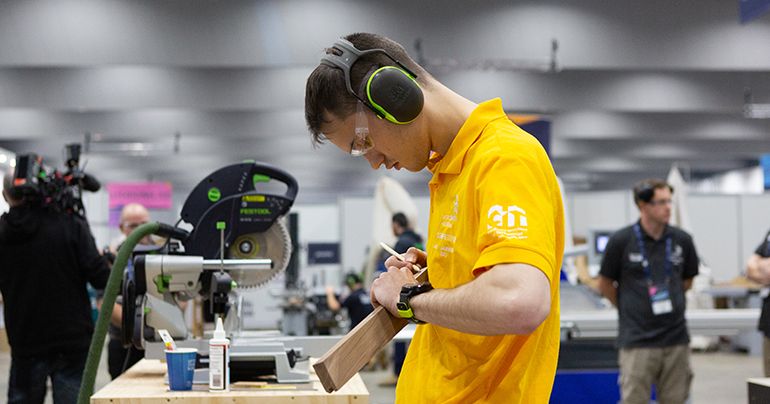 By Christine Robertson, Interim CEO
Far more is at stake than competition medals as 13 apprentices from the ACT region, including 12 from the Canberra Institute of Technology (CIT), test themselves against Australia's best trade students at the WorldSkills National Championships in Melbourne this week.
Ultimately, the biggest reward will be to help position Canberra and our region for sustained economic and social success.
For those unfamiliar, WorldSkills is often referred to as the vocational "Skills Olympics". It was initiated after World War II to address the global skills shortage and to promote the importance of trades. In a post-COVID world, grappling again with a major shortfall in vocational skills, this original mission remains just as relevant today.
Take this week for example. In a bid to ease Australia's housing supply, Federal, State and Territory Government leaders agreed as part of national cabinet to increase the National Housing Accord target to 1.2million new homes in Australia by the end of the decade.
Essential to reaching this target is solving the shortfall in national building and construction trades. That means more carpenters, plasterers, plumbers, electricians, painters, landscapers and so on, the very same trades that CIT students will be representing this week at WorldSkills.
The reality is, these in-demand skilled workers will need to be developed through Australia's vocational education and training providers, just like the CIT.
So, we need to attract more students and teachers to vocational skills, and we also need to give them every opportunity to be the very best versions of themselves.
We need to continue to advocate that vocational education and training is just as important to industry growth and national prosperity as a university degree. Trade qualifications are assessed by competency, not high distinctions or grades, but that doesn't mean we don't measure ourselves against the very highest standards and strive for mastery.
CIT's participation in WorldSkills signals our ongoing commitment to excellence in vocational education and training. It also cements our connection with industry, so together we can build the ACT's thriving workforce of the future.
The ACT region is relatively small in population, but the proportionally big contingent we have qualified for WorldSkills is testament to our ambitious student cohort and the exceptionally dedicated teachers who mentor them on their career pathways.
Over three days, our 13 ACT students will be competing against 450 of their peers, all of whom earned their spots via regional qualifying events. They'll also be striving to represent Australia at the international WorldSkills competition in France in 2024.
WorldSkills is about supporting our students to grow personally and professionally, and to become emerging leaders in industry. Research of past competitors shows that WorldSkills not only helps students refine their technical skills but, just as importantly, it also develops areas such as problem-solving, time-management, networking, communication and resilience under pressure.
CIT's participation in WorldSkills also extends well beyond the individual students involved.
These students will bring their transformative experience back to their student peers, becoming champions for what's possible for the broader student population. More than 20,000 study at CIT each year.
It is also a wonderfully positive reflection on the dedicated CIT teachers and industry mentors who guide these students along the way and set them up for success. Each student competing at WorldSkills has also been supported in their specific preparation with expert tuition from teachers and industry mentors.
It is our teachers and trainers who prepare our students for the seamless transition to the workforce. CIT's latest statistics, in 2022, show almost 91% of our students were either employed or engaging in further study - almost 5% above the national average.
So medals at this week's WorldSkills national championships would be nice and deserved reward for the students, teachers and mentors who have prepared diligently. But just by taking part, our ACT region is already winning.
ACT STUDENT REPRESENTATIVES: Anthony Jenson (Joinery); Billy Stevenson (Painting and Decorating); Caci Mitchell (Retail Baking – Bread); Charlie Elms (Cabinetmaking); Cooper Camden-Smith (Wall and Floor Tiling); Declan Inglis (Plumbing and Heating); Floyd Lucas-Baxter (Refrigeration and Air Conditioning); Hamish Jerks (Electrical Installation); Lachlan Lawrence (Landscape Construction); Lachlan Usher (Wall and Ceiling Plastering); Liam Dowling (Carpentry); Marcus Walton (Landscape Construction); Rifaat Romzi (Cookery).
ACT MENTORS: Michael Blasch (CIT, Landscape Construction); Marty Stallard (CIT, Wall and Floor Tiling); Adam Teer (CIT, Painting and Decorating); Scott O'Donnell (CIT, Wall and Ceiling Plastering); Rolf Barfoed (CIT Cabinetmaking); Dammika Hatharasinghe (CIT, Retail Baking – Bread); David Damour (CIT, Retail Baking – Bread); Marty Jud (CIT, Joinery); Rodney Apps (CIT, Plumbing and Heating); Paul Wright (CIT, Refrigeration and Air Conditioning); Mal Bromley (CIT, Carpentry); Telly Papas (CIT, Carpentry); Brad Walters (CIT, Cookery); Ryan Hanns (Airmaster, Refrigeration and Air Conditioning); Mick Apps (NECA, Electrical Installation); Renard Saunders (NECA, Electrical Installation)
ACT JUDGES: Adam Teer; Martin Stallard; Michael Blasch; Leigh Kleinig; Scott O'Donnell
---