Children experience the wonder of First Nations storytellers at CIT Reid Library
Published: 05 Sep 2022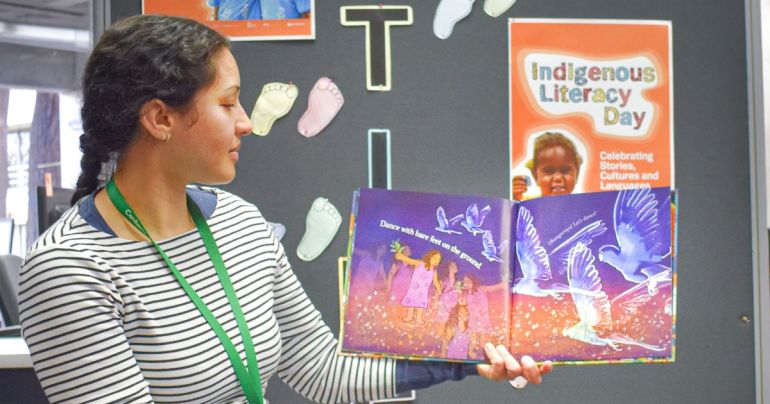 Children from the Reid Early Childhood Centre have been treated to a fun morning of stories and activities at the CIT Reid Library in the lead up to Indigenous Literacy Day.
This story time, aimed at children from 2 to 5 years old, was the first of several Indigenous Literacy Day events at CIT, which celebrates and promotes the revitalisation and preservation of Aboriginal and Torres Strait Islander languages.
The children were treated with stories written and illustrated by First Nations authors, including Possum and Wattle: My Big Book of Australian Words by Bronwyn Bancoff, Family by Aunty Fay Muir and Sue Lawson, Open Your Heart to Country by Jasmine Seymour and Welcome Child by Sally Morgan.
The readings and activities were run by Amanda Diedricks, Acting Library Manager at CIT, who said Indigenous Literacy Day was a great opportunity for children to learn more about Indigenous culture and language.
"2022 is the first year of UNESCO's Decade of Indigenous Languages, and it was great to be able to share books by indigenous authors and illustrators with these kids," Amanda said.
"Through events like this, we are really working to expose young children to Aboriginal and Torres Strait Islander language and culture. At this age, literacy is so important, and children need to hear a variety of different words so they can start to build their understanding.
"Indigenous Literacy Day, and events like this, are also a great opportunity to showcase how Indigenous artists represent and describe their own culture."
According to an AIATSIS survey in 2018-19, there are more than 250 indigenous languages in Australia, but only 123 are still in use. Indigenous Storytime at CIT Reid was the first of three events at CIT for Indigenous Literacy Day.
An Indigenous Literacy Day Digital Event will be held at Bruce Library and Reid Library on Wednesday 7 September from 10.30am to 11am. This event will share the stories, cultures and languages of a group of children in remote Milikapiti and Jilkminggan in the Northern Territory.
A screening of Wash My Soul in the River's Flow will be held at the Reid Library on Thursday 8 September, from 5pm to 7pm.
Learn more about Indigenous Literacy Day.
---