CIT Fit & Well Fitness Centre
2019/2020 Holiday Hours
The CIT Fit & Well Fitness Centre has reopened for the year. Opening hours below.
CIT Classes commence Monday 20 January 2020
Graduate with multiple qualifications in the same time!
Interested in a career in fitness or massage but can't design which path to take?
With CIT you can get both a fitness and massage therapy qualification in the same amount of time. Give yourself the edge with real professional experience, training in CIT's commercial gym and student massage clinic.
---
CIT Fit & Well is open to the public - anyone can join! You don't need to be a CIT student or staff member to take advantage of this great fitness centre.
With loads of modern fitness equipment, a brand new functional training area as well as group exercise classes and personal training, there is something to suit everyone.
CIT Fit & Well is an authentic learning environment for fitness, sport and health students.
Facilities and Equipment
CIT Fit & Well has a large number of exercise machines and equipment including:
a large variety of weight training and cardiovascular equipment
a functional training area and equipment
fitness classes
personal training
CIT Fit & Well staff can develop a fitness program designed to suit your needs.
Group Exercise Classes
CIT Fit & Well delivers low-to-moderate intensity exercise programs: Heart Health, Osteocise, Functional Fitness, Lungs in Action, Functional Mobility and Yoga.
Other services include the Fit & Well Student Personal Training Program; Student Massage Clinic and Student Allied Health Clinic.
Memberships
Joining is easy! Download our Membership Form (PDF 135Kb) and Pre-Screening Form (PDF 533Kb), or pick one up from CIT Fit & Well gym. Drop in today and discuss your membership options with our friendly staff!
Corporate groups are welcome to join with concessions applying for groups of 15 or more.
*Must be over 18 years of age unless accompanied be a guardian.
Early Year General Public and HEAL Special - Membership available until 31st January 2020)
Student Personal training $45 (conditions apply) Must hold a 3, 6 or 12month CIT Fit & Well membership, no medical conditions.
Fitness Assessment and Program $65
Opening Hours
CIT Fit & Well is open 7 days a week.
Monday - Friday: 6am-8pm
Saturday - Sunday: 8am-5pm
---
Forms
---
Contact Us
CIT Fit & Well - A Block, CIT Bruce (PDF 157Kb)
Phone: (02) 6207 4309
Map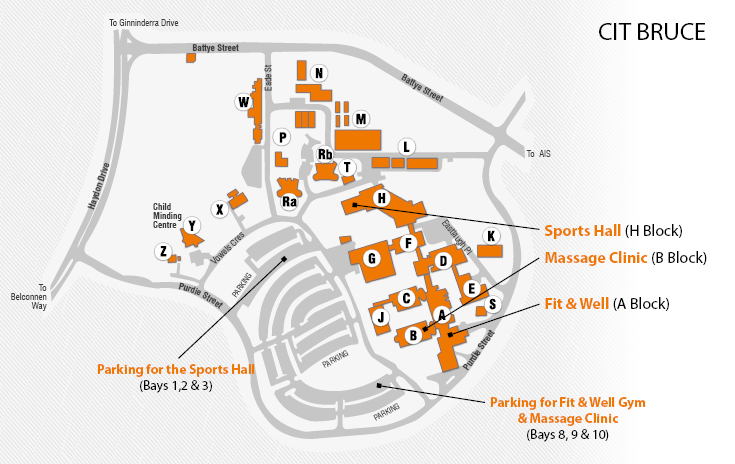 ---