CIT Fit & Well Fitness Centre
The team at CIT Fit & Well are proud to announce session times in the fitness centre have been extended. You will also be pleased to note that Yoga and the student massage clinic has reopened for term 4, 2020.
We've made the following operational changes to comply with current COVID-19 restrictions:
We ask members who are feeling unwell to stay home.

The fitness centre has strict maximum of participants per session (fitness centre 25 and group health classes 20). To facilitate this, members are required to pre-book into available sessions (booking details provided further below). Class participant numbers may increase as we progress through our stage return.

We'll enforce strict entry and exit times between each session to allow enough time to clean the facility between sessions.
By accessing CIT Fit & Well you accept the following conditions of entry:
You must pre book a fitness centre session or group health class. If we do not have your name on the list, we will not let you enter. This is to ensure we comply with the strict number of participants in the facility.
Stay home if you're unwell.
Enter and exit the facility through the designated points (further details below).
Wash or sanitise your hands before entering CIT Fit & Well and when moving through different areas.
Scan your membership card on arrival.
Bring and use your own towel and water bottle every time you work out.
We're now using the Check In CBR app across all CIT campuses. Be sure to download the app before visiting us from www.covid19.act.gov.au/check-in-cbr
Bookings (Fitness Centre and Health Classes)
Members can contact CIT Fit & Well on (02) 6207 4309 on the following days to book into sessions:
Call Sunday - To book Monday and Tuesday sessions
Call Tuesday - To book Wednesday and Thursday sessions
Call Thursday - To book Friday, Saturday and Sunday sessions

Click here for session times for the Fitness Centre and fitness classes (PDF 192Kb)
Health class changes
We've re-designed class programming to limit member interaction and equipment sharing. We ask members to adhere to physical distancing guidelines by following the floor markings in the centre.
If you can't attend your booked session, please contact CIT Fit & Well as soon as you can so we can contact members on the reserve list.
We've capped group exercise classes to maintain appropriate physical distancing and safety.
Class times are spaced to allow time for cleaning.
Please don't congregate around the entry when you arrive or leave the centre.
Safety
If you have been in contact with a suspected COVID-19 case or you are feeling unwell, we expect you to stay home and to notify CIT Fit & Well of your cancellation.
Please be respectful to team members who are enforcing procedures.
We understand that everyone's circumstances are different. If you don't feel comfortable returning to CIT Fit & Well at the moment, you can keep your membership suspended. Please tell the team if you want to do this.
Wearing a mask is your choice but is not mandatory.
Our strict 'no towel, no train' policy is still in place.
Bring your own water bottle with water. The water fountains will not be in use on campus.
Medical clearance
Please be reminded that medical clearances are valid for 12 months. If you require an updated clearance, this may also be a good time to discuss with your medical practitioner any personal COVID 19 requirements.
Fitness Centre and Sports Hall entry and exit
On arrival, please avoid congregating around the entry.
Fitness Centre
- Enter through the glass sliding door in A block
- Exit through the glass sliding door in A block
Sports Hall
- Enter through the glass sliding door in H block
- Exit through the indicated signed side exit door in the sports hall
Scanning into sessions
Always swipe your membership card upon entry. This will mean we have accurate attendance records and can trace member visits.
Signage
Please follow directions of the various signs on the CIT campus and in CIT Fit & Well. Signs will indicate flow of traffic, maintaining physical distancing and which equipment is available to use.
Cleaning
To maintain high level of infection control at CIT, extra cleaning is being completed on campuses. Both professional cleaners and CIT Fit & Well instructors will be cleaning in the centre and following the health classes.
We expect members to always use a towel on equipment and wipe down equipment with the supplied medical grade disinfectant wipes. We've also placed hygiene stations around the centre in high-touch areas. We recommend you don't share equipment unless you disinfect it between each use.
Equipment
We've repositioned equipment and decommissioned certain cardio to help members and staff maintain the 1.5 metre physical distancing rule.
Please note, changes may occur outside CIT control to ensure the health and safety of individuals on campus. If you are unsure about any changes, please ask one of the team at CIT Fit & Well for help.
The CIT Fit and Well team is excited to welcome you all back and appreciate your understanding during this challenging time.
CIT Fit & Well is open to the public - anyone can join! You don't need to be a CIT student or staff member to take advantage of this great fitness centre.
With loads of modern fitness equipment, a brand new functional training area as well as group exercise classes and personal training, there is something to suit everyone.
CIT Fit & Well is an authentic learning environment for fitness, sport and health students.
Memberships
Joining is easy! Download our Membership Form (PDF 472Kb) and Pre-Screening Form (PDF 533Kb), fill in your details and email the completed forms to FitandWell@cit.edu.au, or call (02) 6207 4309 to discuss your membership options with our friendly staff!
Corporate groups are welcome to join with concessions applying for groups of 15 or more.
*Must be over 18 years of age unless accompanied be a guardian.
Early Year General Public and HEAL Special - Membership available until 31st January 2020)
Student Personal training $45 (conditions apply) Must hold a 3, 6 or 12month CIT Fit & Well membership, no medical conditions.
Fitness Assessment and Program $65
Forms
---
Contact Us
CIT Fit & Well - A Block, CIT Bruce (PDF 157Kb)
Phone: (02) 6207 4309
Map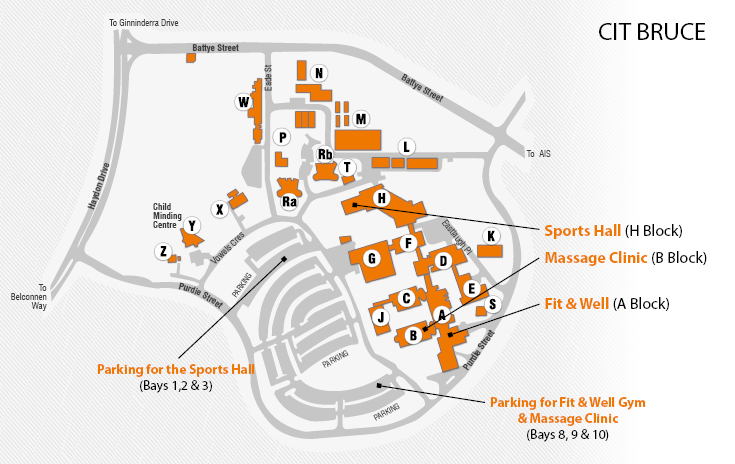 ---