CIT Fit & Well Fitness Centre
This service is temporarily closed.
All CIT Fit & Well services have closed as of 12pm Monday 23 March 2020. This is following the recommendation from ACT Health to prioritise your health and wellbeing amidst the concerns of the current health crisis.
CIT encourages all students and members to take all precautions to protect their health and that of their loved ones. As a community we are all responsible to help stop the spread of the virus, and to show compassion to one another.
Like many organisations, the recent fires, severe weather and current health situation have been disruptive to business operations. CIT's absolute top priority remains the health, safety and wellbeing of our students, members and staff. CIT Fit & Well would like to thank everyone for their understanding and support through these difficult times.
Graduate with multiple qualifications in the same time!
Interested in a career in fitness or massage but can't design which path to take?
With CIT you can get both a fitness and massage therapy qualification in the same amount of time. Give yourself the edge with real professional experience, training in CIT's commercial gym and student massage clinic.
---
CIT Fit & Well is open to the public - anyone can join! You don't need to be a CIT student or staff member to take advantage of this great fitness centre.
With loads of modern fitness equipment, a brand new functional training area as well as group exercise classes and personal training, there is something to suit everyone.
CIT Fit & Well is an authentic learning environment for fitness, sport and health students.
Facilities and Equipment
CIT Fit & Well has a large number of exercise machines and equipment including:
a large variety of weight training and cardiovascular equipment
a functional training area and equipment
fitness classes
personal training
CIT Fit & Well staff can develop a fitness program designed to suit your needs.
Group Exercise Classes
CIT Fit & Well delivers low-to-moderate intensity exercise programs: Heart Health, Osteocise, Functional Fitness, Lungs in Action, Functional Mobility and Yoga.
Other services include the Fit & Well Student Personal Training Program; Student Massage Clinic and Student Allied Health Clinic.
Memberships
Joining is easy! Download our Membership Form (PDF 135Kb) and Pre-Screening Form (PDF 533Kb), or pick one up from CIT Fit & Well gym. Drop in today and discuss your membership options with our friendly staff!
Corporate groups are welcome to join with concessions applying for groups of 15 or more.
*Must be over 18 years of age unless accompanied be a guardian.
Early Year General Public and HEAL Special - Membership available until 31st January 2020)
Student Personal training $45 (conditions apply) Must hold a 3, 6 or 12month CIT Fit & Well membership, no medical conditions.
Fitness Assessment and Program $65
Opening Hours
CIT Fit & Well is open 7 days a week.
Monday - Friday: 6am-8pm
Saturday - Sunday: 8am-5pm
---
Forms
---
Contact Us
CIT Fit & Well - A Block, CIT Bruce (PDF 157Kb)
Phone: (02) 6207 4309
Map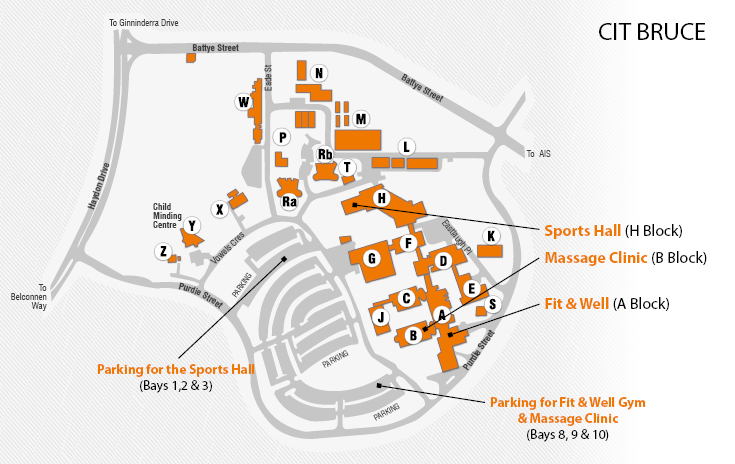 ---