CIT graduate helps the vulnerable to have the best quality of life
Published: 13 Jun 2019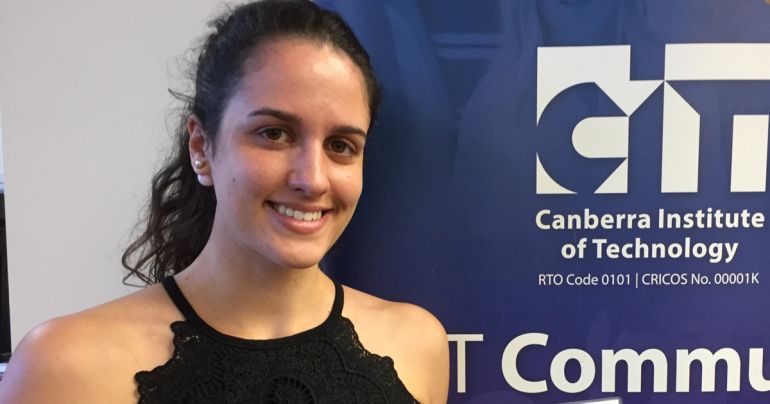 Rebecca Manjariotis graduated in 2018 with Certificate III in Community Services (CHC32015) and a Certificate IV in Mental Health (CHC43315) and she is passionate about her field. Richmond Fellowship recently recognised Rebecca's commitment to assisting individuals with special needs with an Outstanding Employee Award. She stopped by recently to share her exciting news and career progression with her CIT family.
Why did you choose to go into community services?
I noticed the community services industry helped people and I felt different jobs I had tried were very unfulfilling. I want to go home and feel like I have made a difference in the world.
What do you do at Richmond Fellowship and what do you enjoy most about your job?
I am a Mental Health Support Worker. At work, my focus is to support people by helping them learn new life skills and become more independent. It is also about supporting them through crises and providing ongoing care for them to have the best quality of life possible given their circumstances.
What are the main skills you learned at CIT that you apply at work?
Active listening skills, how to deal with a crisis, how to de-escalate a situation, how to have a certain understanding of what someone is going through and distinguish the difference between the person and their mental illness. Also, to apply a strength-based approach - I learned to focus on what a person can do, rather than on what they cannot do.
What are the traits someone interested in community services should have?
They must have a genuine drive to help people and believe that change is possible no matter what background a person comes from.
Tell us about your award.
I received the inaugural Outstanding Employee Award for "routinely going above and beyond when urgent assistance is required." I think having a good attitude, being aware of our residents' needs and emotionally sensitive to how they are feeling made me deserving of this award. I am grateful to the team at Richmond Fellowship for their acknowledgement of my efforts.
If you are inspired by Rebecca's career journey, learn more about CIT's Community Services and Development and Mental Health courses.
---