Students and industry meet at Fit & Well Allied Health Clinic
Published: 23 Jan 2020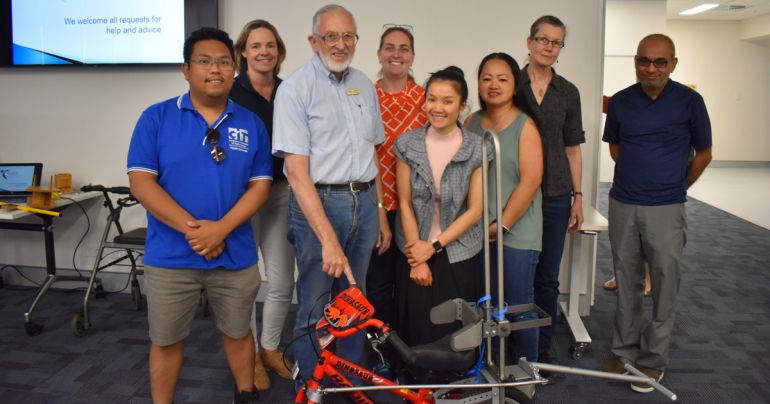 The Canberra Institute of Technology (CIT) recently hosted the Allied Health Assistant Industry Engagement Workshop, an opportunity for students to network with industry leaders and to learn about innovative advances in fields aimed to improve the quality of life of older adults and people with disabilities.
The industry workshop was hosted at the recently opened Fit & Well Allied Health Clinic at CIT Bruce and included presentations by Technical Aid to the Disabled ACT (TADACT), ACT Disability, Aged and Carer Advocacy Service (ADACAS) and Carers ACT, the peak body for carers in the ACT. These organisations play an important role in the occupational therapy industry aiming to assist people to live independently, and support their carers to maintain personal wellbeing.
TADACT creates and provides assistive equipment to solve specific problems faced by individuals with disabilities. Graham Waite of TADACT presented a range of specialised, innovative equipment designed for this purpose, including a one handed knitting aid, customised cutlery, a disability friendly bicycle, a one handed pool cue and a guitar plectrum designed for people who have difficulty gripping small items.
Mr Waite said, "Events like the Allied Health Assistant Industry Engagement Workshop were a valuable way of connecting with students and broadening their thinking about possible solutions to the challenges faced by people with disabilities."
Presentations by leading experts in rehabilitation, mental health services and child development services, also provided insights into a range of issues affecting the occupational therapy field.
Ned Jelbart of CIT Health, Community and Science said, "CIT's Fit & Well Allied Health Clinic was a perfect venue to expose our students to the kind of support and opportunities available in the industry, and also for the industry to connect with our students and with the Institute."
The state-of-the-art allied health simulated workplace environment will continue to host workshops in collaboration with industry.
Start your career as an allied health assistant with a nationally recognised course from CIT.
---