Youth work turns dream into career
Published: 08 Nov 2021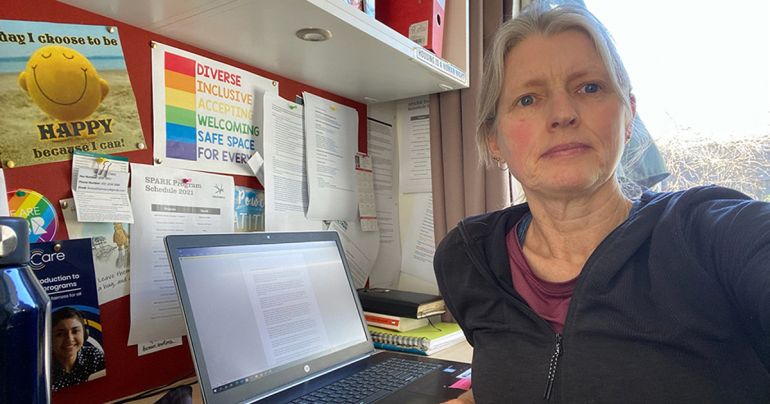 Everyday Alison Swanson can make a positive difference to a young person's life. This is why she loves her career and enjoys working with teenagers so much.
"I chose this profession after spending many years volunteering in my children's sporting clubs and schools. I really loved working with young people and felt I was a positive influence. I believe that young people benefit greatly from relationships where they feel valued, respected and understood, [so] youth work seemed the perfect choice for me."
Alison has worked as a youth worker for over 5 years, and studied a Certificate IV (CHC40413) and Diploma in Youth Work at CIT. She works at the Canberra Youth Residential Service providing help to young people in Canberra who are experiencing homelessness.
A typical day includes checking in with young people to make sure they are okay; letting them know that they have someone to talk to, and taking an interest in what they are doing for the day. Alison encourages them to make positive choices and to stay active and healthy - supporting them to attend school, work and other activities. They also need to learn and maintain the skills required for independent living.
"It is always challenging finding young people suitable medium to longer term housing options in the ACT, particularly if they have complex needs. It has been my experience that building strong relationships with young people is the most important aspect of being able to best support them, and that networking and collaboration with other services is invaluable when assisting young people to have their needs meet."
Alison said that through building positive relationships she have seen great outcomes for some young people.
"I enjoy so much about this job, including working with young people, getting to know them, their likes and dislikes, listening to their stories and supporting them to make choices around what they would like to see happen in their lives."
"CIT offers both the Certificate IV and Diploma in Youth Work, which was important to me as I planned to study both. The timetable was also flexible - I could do part-time or full-time study, and the workload was manageable."
"The industry knowledge that the teachers brought to each lesson was invaluable, as was working with other students to complete group tasks and roleplays. I built really good relationships with my teachers, who were always available for questions and queries."
The workplace placement was a particularly helpful aspect of the course and it helped Alison decide what area she was interested in working in, and through the placement, she was offered employment.
"I learnt everything I needed to know to work in the industry. I learnt that a youth worker's role is to work alongside young people, supporting them to meet their goals and develop as young adults."
"The course taught me about the many barriers that vulnerable young people face, including homelessness, alcohol and other drug addiction violence and family breakdown, mental health and trauma."
"I learnt the importance of building mutually respectful and trusting relationships, maintaining a non-judgemental and safe spaces, promoting independence and the importance of maintaining boundaries. I also learnt skills to support a young person in crisis and how to de-escalate situations and keep myself and others safe. The course also developed my knowledge of the legislations and regulations we are required to adhere to, and the importance of following policies and procedures in the workplace, being consistent and transparent, and requirements around mandatory reporting and privacy and confidentially, and a sound knowledge of human rights."
"The course also reinforced the importance of being self-aware and practicing self-care."
Alison offers the following advice for people interested in youth work as a career:
"Young people are the best, they are fun and engaging and inspiring to be around. It is an honour to be able to offer support and guidance to young people, and to assist them to achieve positive outcomes."
For details about studying youth work at CIT, visit our website.
---