Teaching and learning: a fashionable journey to Cambodia
Published: 07 Jan 2019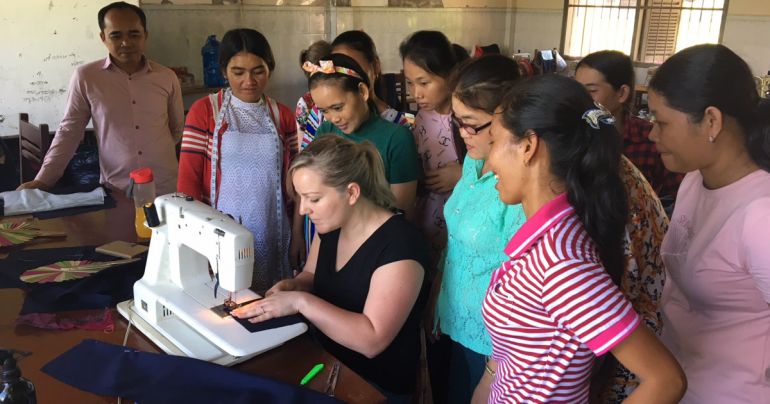 Pursuing a Diploma of Applied Fashion and Merchandising (MST50116) at CIT enables students to develop their talent, follow their passion and share their fashion design acquired skills with women living in rural communities of Cambodia.
Motivated both by curiosity and a desire to give back, CIT students Rachael, Vimala and Judy jumped at the opportunity to participate in the study experience in Cambodia. "I wanted to take part in this program because of my interest in sustainability and an ethical fashion industry," said Rachael.
Stepping into a trainer role a group of students in the Creative and Design Industries program travelled to Cambodia and along with a local Khmer dressmaker delivered an intensive 8-day workshop to women from remote villages. Rachael, Vimala, Judy and their peers were tasked with enhancing the sewing technique of women who rely on their sewing skills to generate an income.
"I'm keen to help others, particularly those who are less fortunate. I wanted to make a positive difference in people's lives," said Vimala who considered the language barrier to be the greatest challenge throughout the experience. "It was great to have the translator. I felt by the end of my time with the Cambodian people that a level of trust and comfort had been established where they started to approach me with questions and we were able to communicate through drawings and physical adjustments to garments. There were of course, a lot of laughs along the journey as well."
In addition to visiting manufacturing plants and teaching the women design and patternmaking techniques, the CIT students' learning journey included sessions with a local dressmaker who taught them to sew traditional Khmer dresses. "During the training, I was able to build on my current skills including adjusting trousers patterns, upcycling jeans and the process used to draft and construct a traditional Khmer wedding garment," Judy said.
A significant exchange within a foreign culture is a memorable experience that CIT students enjoy through study abroad opportunities. "I would 100 per cent recommend this experience to other students. The main reasons would be that you have an opportunity to share the skills you have learnt and give back to those in need. The skills that we shared with the Cambodian people will empower them and assist them to make a long term living. That's pretty amazing and rewarding," Vimala said.
For third consecutive year, CIT's Fashion Lecturer Jamie Gould has led the Cambodia tour. Through stitching, hemming and patternmaking, this experience has enabled CIT students to participate in a generous cultural exchange grounded on fashion design and garment construction that has upskilled women in Cambodia to help them better contribute to their families and communities.
Learn more about CIT's Diploma of Applied Fashion Design and Merchandising MST50116.
---