Women student leaders receive Soroptimist International Scholarship
Published: 16 Nov 2020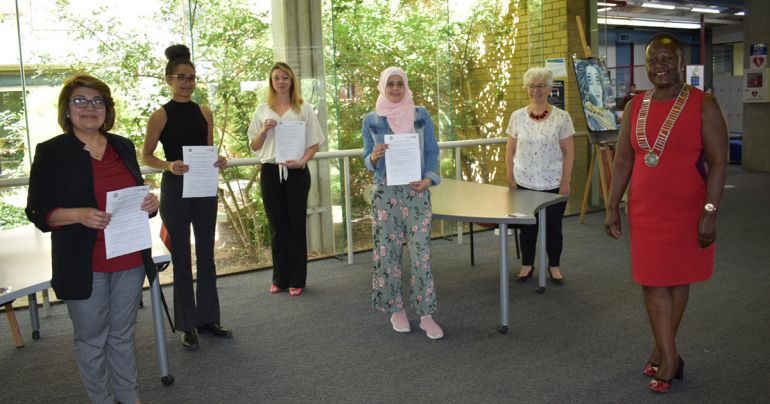 The annual Soroptimist International Canberra Scholarships were recently presented to four female CIT students, sorors, or sisters in Latin. The teachers and staff who nominated the students considered them optima (Latin for best), as they were impressed by their commitment to complete their qualifications and leadership potential.
Soroptimist, an amalgamation of two Latin words, can be defined as 'the best for women.' Aligned with the United Nation's Sustainable Development Goals, Soroptimist International aims to create opportunities to transform the lives of women and girls throughout the world.
Jane Chimungeni-Brassington, President of the Soroptimist International Canberra Chapter said, "Education prepares women and girls for their future, so it is gratifying that our scholarships help CIT students fulfil their educational objectives."
This year, four $1,000 scholarships were awarded to sorors from diverse backgrounds who were selected for their academic achievement, leadership ability and community involvement, and keen focus on their skills and career development:
Julia Malamoo is an Aboriginal and Torres Strait Islander student currently working with the Commonwealth Government and studying a Certificate III in Electronics and Communications (UEE30911).
Mona Ismail is a migrant student who lived in Iran and Syria and is finishing an Advanced Diploma of Graphic Design (CUA60315).
Ana Garcia Velasco is studying a Diploma of Business (BSB50215), and is a refugee from El Salvador building a new life with her family in Australia.
Eve-Marie de Gregorio, an international student, is Chair of the CIT Student Association Council and is studying a Diploma of Community Services (CHC52015).
Soroptimist International Canberra Chapter Member and Head of CIT Accounting and Project Management Ella Rosso said, "We rely on the insight of teachers and staff to nominate deserving students. It's a privilege to promote women's empowerment and support their career journey."
A range of scholarships are available to CIT students offering financial support that can help them focus on their studies.
---