Scholarships for female electricians and apprentices to study solar
Published: 22 Dec 2021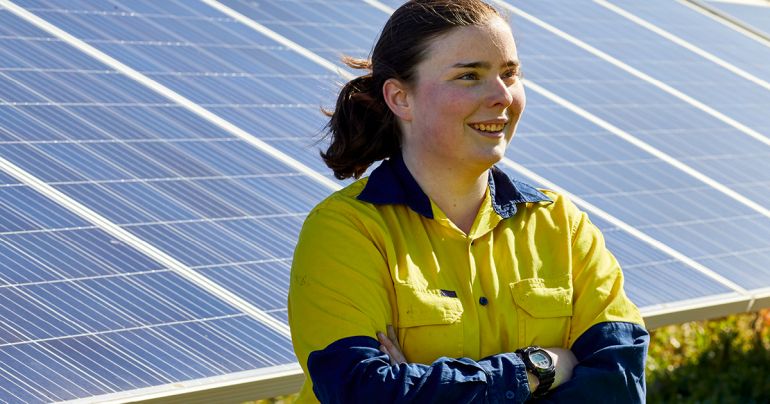 Female electricians and apprentices are being offered $2,250 scholarships to qualify in battery storage systems and grid connect photo voltaic systems at the Canberra Institute of Technology (CIT) and work in the fast-growing renewables industry.
Sponsored by Brighte, the Brighte Women in Solar program is offering:
5 x $2,250 scholarships to directly contribute to CIT student fees across the period of study in 2022.
Brighte will also fund the Clean Energy Council (CEC) accreditation costs for each recipient and provide mentoring opportunities.
The Clean Energy Council estimates the renewables sector currently employs over 25,000 people and could employ as many as 44,000 people by 2025. As the ACT renewables sector continues to grow, more skilled and qualified workers will be needed to meet the demands of the industry.
Brighte is the exclusive partner for the ACT Sustainable Household Scheme, which commenced in July 2021, and has so far helped more than 1,600 homeowners in the ACT to make their homes more sustainable.
The Brighte Women in Solar program promotes trade career paths in the renewables sector and provides valuable support for women to acquire in-demand skills.
CIT is committed to inspiring and supporting women into trade careers. Currently, women represent less than two percent of the workforce in trades across the country and the Clean Energy Council estimates women make up less than three percent of all solar rooftop installers.
Applications for the Brighte Scholarships close 5pm 21 February 2022. For details visit CIT Scholarships
---