Persistently building knowledge in construction
Published: 29 May 2020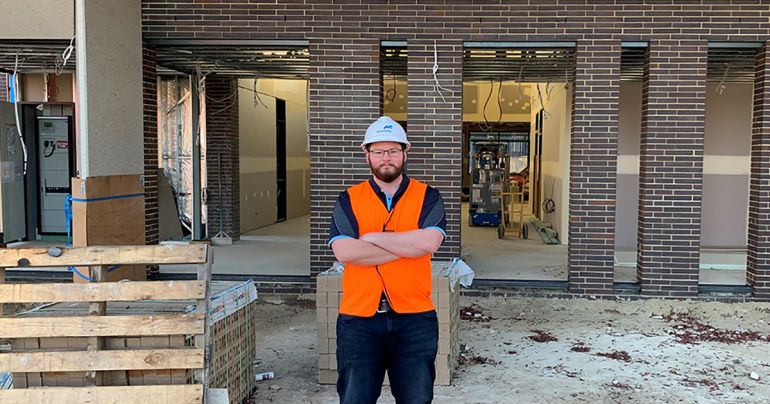 A trusted mentor once told local construction project administrator Joshua Kettle that he should always work to increase his knowledge and study. He clearly took this to heart as he has now completed two Diplomas and one Certificate IV in Building and Construction at the Canberra Institute of Technology (CIT), with two Certificate IVs in Building and Construction underway.
Working in construction was always something Joshua wanted to do, and CIT has helped him develop a range of skills within this industry.
Joshua started his career as a carpenter, focusing mainly on commercial carpentry. "A mentor of mine told me there was nothing wrong with being a carpenter my whole life, but there is more to it. He recommended I undertake further study to increase my knowledge and become a construction professional like him."
"Another mentor of mine recommended I go somewhere that provided high quality training, hence my choice of CIT. I have now been studying at CIT since 2015," Joshua said.
Joshua has gone on to complete a Diploma in Building and Construction (Building) (CPC50201), a Diploma in Building and Construction (Management) (CPC50308), and a Certificate IV in Building and Construction (Estimating) (CPC40308). He is currently undertaking a Certificate IV in Building and Construction (Building) (CPC40110), and a Certificate IV in Building and Construction (Site Management) (CPC40508).
He works as a project administrator for a commercial builder in Canberra, and says that CIT is a great place to get the skills you need to progress in your chosen career.
"CIT had a very practical, solutions focused approach regarding construction, this has helped me to adapt that approach to my work life as well. The networking opportunities at CIT are also unsurpassed, meeting new people, forging new relationships as well as potential business contacts," Joshua said.
"I love the satisfaction of seeing a tangible product at the end of the day, as well as overcoming complex construction and management problems knowing the knowledge gained through my studies has prepared me for this."
Joshua has remained busy, still assisting in running a number of projects across the ACT, having made adjustments to comply with social distancing. "I'm really fortunate to be part of an industry that is still delivering projects and getting a lot of work done."
---