Education advisor experienced in online learning shares tips
Published: 19 May 2020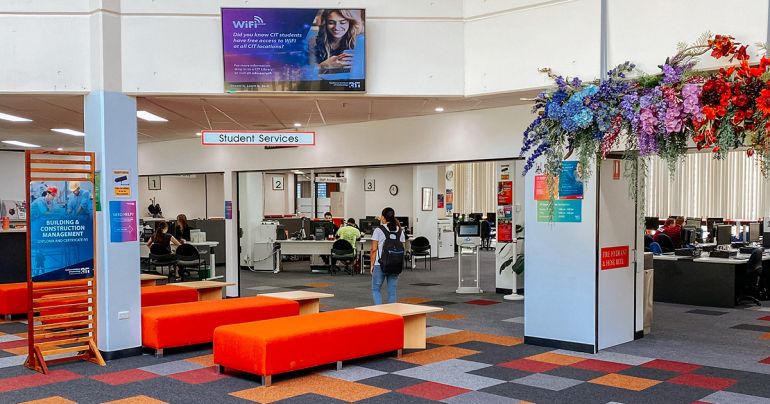 For many students this will be the first time they have ever studied courses online or had to conduct most or all of their study from home. While it can be a challenging task, the Canberra Institute of Technology (CIT) staff, including Education Advisor Lesley Cioccarelli, are here to help.
Lesley has 13 years of experience with distance and online learning, and as a student she completed part of her high school and tertiary education via distance learning. She has used virtual classrooms to teach students at CIT, and even some in China and Korea.
There are many different challenges while studying and learning from home, but Lesley said there are a few basic guidelines. "If you aren't going to regular classes with a teacher to help guide your study, you will need to become a more independent learner. You need to draw on your self-motivation and pay more attention to managing your time."
"Be patient. Don't expect it to go perfectly straight off. What might seem difficult at first will get easier as you get used to it. You will develop new skills on top of the ones in your course."
Lesley said communication with teachers is vital for students. "Teachers understand this is new for everyone and they can offer alternatives or refer you to additional support. Ask your teachers to provide verbal as well as written instructions."
Lesley suggested students contact the education and student advisors in CIT Student Support. "We are also teachers and can guide you in your study. We can also help you gain confidence using some of the technology. You can still make appointments with us and arrange to talk to by phone or 'meet up' via an online platform, whichever suits you best."
Some key tips include: Find a quiet place to study where you are free from distractions or interruptions.
Have a schedule and stick to it. By creating a routine and including study time you can make sure you are setting enough time for learning.
Take breaks and stay healthy through exercise and eating well.
Set goals, for both the short and long term, but avoid putting too much pressure on yourself.
Stay connected with your friends, family and classmates.
Support is also available to help with all things eLearn and Adobe Connect elearn.support@cit.edu.au.
More study tips and resources are available on the Study from Home web page.
---