New health training opportunities for ACT Aboriginal and Torres Strait Islander students
Published: 15 Jun 2021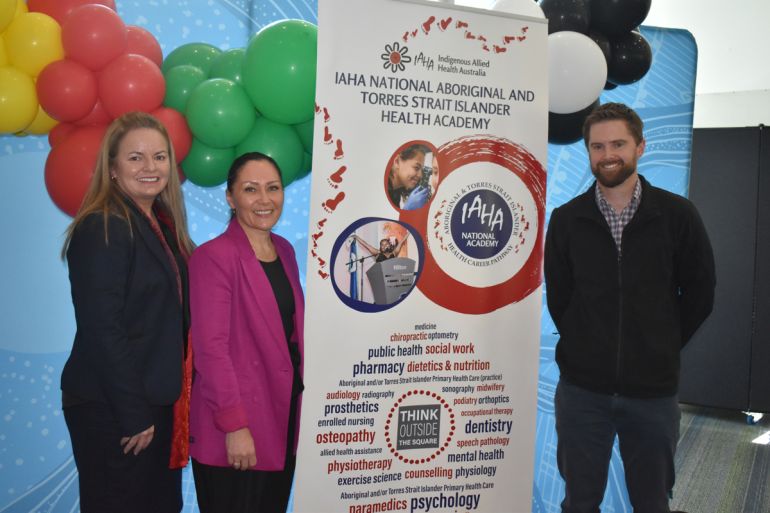 An exciting new training pathway launched in the ACT will see improved skills development and career opportunities in the health industry for local Aboriginal and Torres Strait Islander students.
The Indigenous Allied Health Australia National Aboriginal & Torres Strait Islander Health Academy (IAHA National Academy) will give Aboriginal and Torres Strait Islander students in Year 11 and 12 in the ACT the opportunity to complete a nationally recognised Certificate III in Allied Health Assistance (HLT33015) qualification through CIT. Students will also gain experience in the health workforce with both IAHA and local health service providers while completing their Year 11 and 12 studies.
Developed in partnership with community stakeholders, the program includes paid employment for school-based trainees, mentoring and career planning. Pathway options for students range from gaining employment in the health field to continuing study with partner organisations, including CIT and the University of Canberra.
Allied Health encompasses various health professional groups, including physiotherapy and occupational therapy in a range of settings, including hospitals, community rehabilitation, private practices and aged care facilities.
CEO of IAHA Donna Murray said, "The IAHA National Academy provides a positive and practical way of empowering our young people to take control of their futures—to believe in themselves—and also to understand the potential role they play in improving the health of their people and community."
CIT is the training provider partner for the ACT version of this program. As a starting point, CIT will be offering a Health Starter Pack Statement of Attainment (SA-HS33) for students in the IAHA National Academy in Semester 2 2021. CIT plans to deliver the full Certificate III in Allied Health Assistance (HLT33015) for students in the ACT IAHA National Academy from next year.
For more information contact the IAHA via email: academy@iaha.com.au, phone: 02 6285 1010 or website
---