Gear shift takes bus driver to new cyber security career
Published: 08 Oct 2019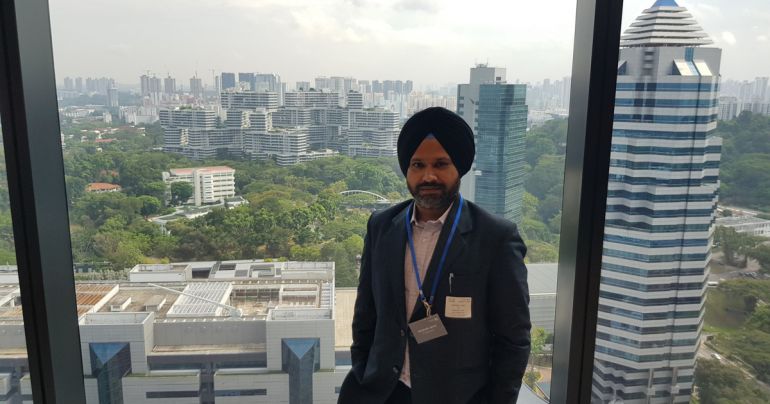 An IT professional working full-time as a bus driver whilst running his web development business, Harpreet Jaura sought a career change. A promising career opportunity and the freedom to spend more quality time with his 9-year-old son are the culmination of pursuing the Certificate IV in Cyber Security (22334VIC) at the Canberra Institute of Technology (CIT).
Ahead of Harpreet's anticipated December 2019 CIT graduation, he has secured an Analyst job offer from Accenture. "This course has sharpened my skill set and giving me the focus I need to jump back onto my earlier career path," Harpreet said.
Harpreet completed a Master of Information Technology, but since 2011, he has not worked in the industry. During this period, he worked with Transport Canberra as a bus driver. Five years ago, he launched a web and graphic design business. The experience of dealing with the hacking of one of his client's websites prompted Harpreet's interest in cyber security and its implications for businesses.
Returning to study, keen to complete the qualification, required an additional time commitment on Harpreet's already full schedule. The support Harpreet received from his teachers was critical to persist through his study journey.
"The teachers at CIT encourage us to excel in our studies, but they are also our mentors being very supportive and understanding of our other commitments," he said.
With only a couple of months away from graduation and the Accenture job offer in hand, Harpreet continues engaged in professional development opportunities. Most recently, Harpreet participated in the September 2019 Australian Government's Endeavour Leadership Program as a part of a Singapore study tour where students visited the cyber security facilities of leading institutions, such as KPMG, Republic Polytechnic, and Keysight Technologies/Ixia.
"The Certificate IV in Cyber Security has helped me to fly high and achieve my dream career," Harpreet said.
---