Literacy programs for CIT indigenous students
Published: 01 Sep 2021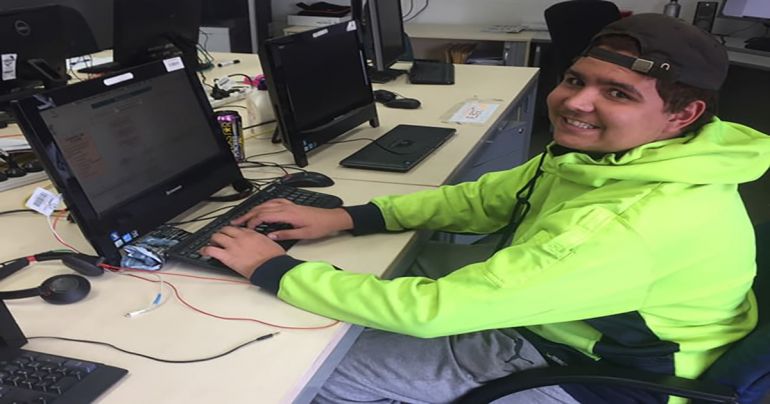 1 September is Indigenous Literacy Day. CIT has many innovative programs to support literacy for Aboriginal and Torres Strait Islander students including the MARA program and the Foundation Skills for Your Future course as well as an extensive program to encourage the use of Indigenous language at CIT.
Research undertaken in the development of a CIT literacy program for indigenous students identified the digital divide that exists between members of the Aboriginal and Torres Strait Islander community and the broader population. As digital skills continue to grow in importance, people without digital literacy are facing increased barriers to enter employment.
CIT Yurauna in partnership with Connexions delivers a free Indigenous Pre-Employment Program for Aboriginal and/or Torres Strait Islander peoples focused on digital literacy skills through accredited and non-accredited units delivered at CIT, professional work placement activities and traineeship employment opportunities on completion of the program.
Students have access to mentors and wrap around support throughout the program, all in culturally safe facilities and environments.
Another program which also supports Indigenous Literacy is the Foundation Skills for Your Future program. The units in Foundations Skills have been developed to encourage participants to get acquainted with their learning styles, learning strategies, plans and goals, employability skills as well as their career planning.
One young Indigenous student, Frank is taking part in this program and thriving. The classes are enabling Frank to realise his potential and look in a more positive way into his future prospects.
As part of the training program, participants are mentored, coached in life skills and enrolled into CIT's Certificate II in Skills for Work and Vocational Pathways FSK20119. Participants study units of competencies to upskill their communication, reading, writing and digital literacy skills to be work-ready.
Frank has been working for just over 12 months at The Worldview Foundation as an e-waste technician. The Worldview Foundation is a social enterprise assisting young Aboriginal and Torres Strait Islander men to prepare for and plan, meaningful, long term careers.
Prior to commencing the CIT course Frank completed his Year 10 Certificate. He had become disengaged from the school system through a combination of non-aligned teaching techniques and a complex family life. Growing up, Frank didn't see himself as an intelligent person and had lost confidence in his ability to learn.
In the first session of the CIT course, Frank quickly picked up the basics of the CIT online learning platform. Frank has always been an outgoing person, but his interaction in the class was a step above, Frank demonstrates an innate ability to make his peers feel relaxed and non-threatened when he assists them. He kneels beside their desk and speaks to them in a calm, supportive voice. Frank clearly has an aptitude for teaching.
These skills were to prove incredibly useful at an Employment Expo hosted by CIT. Frank was selected to assist a teacher from the 'High Risk' training department in demonstrating aspects of the 'Working at Heights' course to Indigenous students.
Through his work at WorldView and participation in the CIT Certificate II in Skills for Work and Vocational Pathways FSK20119 course Frank has been able to work his confidence and he now understands that he has always been an intelligent person, it was a lack of encouragement within his previous learning environment which had failed him.
For more details of CIT courses and programs visit www.cit.edu.au
---