Helping the planet: a Wind Turbine Technician's story
Published: 05 Mar 2019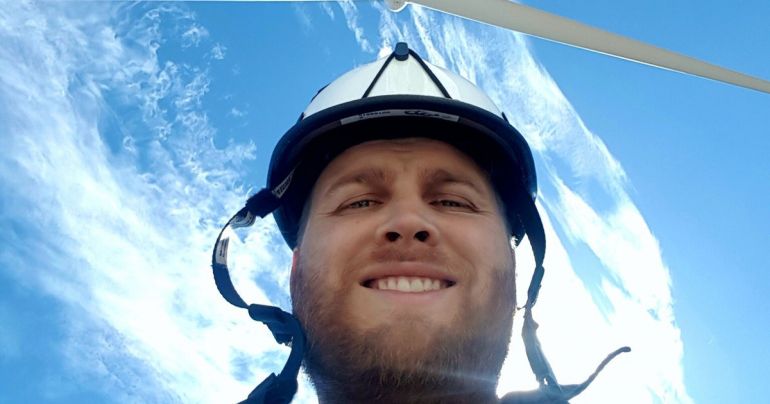 Maintaining, repairing and upgrading wind turbines is Beau Brandon's contribution to a renewable energy future. His Certificate III in Electrotechnology Electrician (UEE30811) from CIT led to many opportunities in the renewable industry, including a job with global sustainable wind energy leader Vestas.
Beau flippantly describes his job as "making sure the blades keep spinning," but his monitoring role is vital to ensure the ongoing performance of turbine generators and uninterrupted service to customers.
There is no schedule predicting when a turbine may break down and the repairs may require long working hours, but despite the challenging demands, Beau has found his purpose in renewable energy. "It feels good playing a part in helping provide a viable alternative to fossil fuels," Beau said.
As part of his studies at CIT, Beau travelled to Europe on a study tour focused on learning about renewables and networking with industry leaders. He had previously worked overseas and was looking for ways to move back, and through this trip saw an astounding amount of wind turbines in France and Spain and realised this industry could literally take him anywhere.
Beau credits CIT and his teachers with the "confidence to give the wind industry a decent shot." Beau's objectives are clear: he is pursuing an online Bachelor of General Studies, is keen on getting a post overseas and becoming a full-time renewables project manager.
When asked what advice he would give to someone looking into renewables as a career, Beau said, "Persistence is key. Get to know people in the industry. Apply for positions. If you get the dreaded polite unsuccessful email, find out what skills you are missing and acquire them. If you want a job that is engaging, good for the planet and can take you around the world, then renewables is for you."
Learn more about CIT's Renewable Energy Skills Centre of Excellence.
---