CIT students see the future of renewable energy
Published: 10 Feb 2020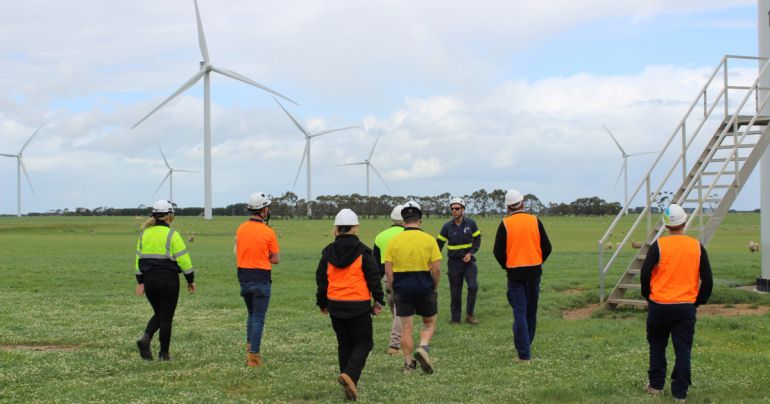 Seven lucky CIT apprentices and three CIT staff members from the Renewable Energy Skills Centre of Excellence took part in an eight day tour of cutting edge renewable energy facilities in Australia to learn about developments in renewal energy and opportunities in the industry.
The tour included the Clean Energy Council and Capstone Recruitment Renewable Energy Careers Expo and the All Energy Exhibition and Conference, both in Melbourne, followed by a number of renewal energy facilities in South Australia.
"The Renewable Energy Careers Expo was a chance to learn about career pathways and positions in the renewable energy sector and to network with industry representatives," Business and Industry Engagement Officer Tamara Duncan said.
"At the All Energy Exhibition and Conference, staff and students heard from world-class speakers covering the latest innovations, energy policy, government initiatives and project developments across solar and wind energy, energy storage and hydrogen."
In South Australia, the tour included the AGL Macarthur Wind Farm, Lake Bonney Wind Farm, Tonsley Innovation Park, Zen Power Systems/Enwave Australia, Tesla, the Sonnen Battery Factory and the Sundrops Farm Solar Tower.
These facilities represent the cutting edge of renewable energy in Australia, so the tour was an invaluable experience for our students to see them in action.
The excursion was a fascinating opportunity to observe how private companies choose to produce renewable energy.
A participating apprentice, Matthew Burns of CEA Technologies, enjoyed his time at the Lake Bonny Windfarm. "Being able to be on the site and interacting with the people working there gave us all insights into wind power that would otherwise be impossible to gain," Matthew said.
Lean more about CIT's Renewable Energy Skills Training Centre of Excellence.
---