Fee-Free TAFE for Early Childhood Education and Care
Published: 14 Apr 2023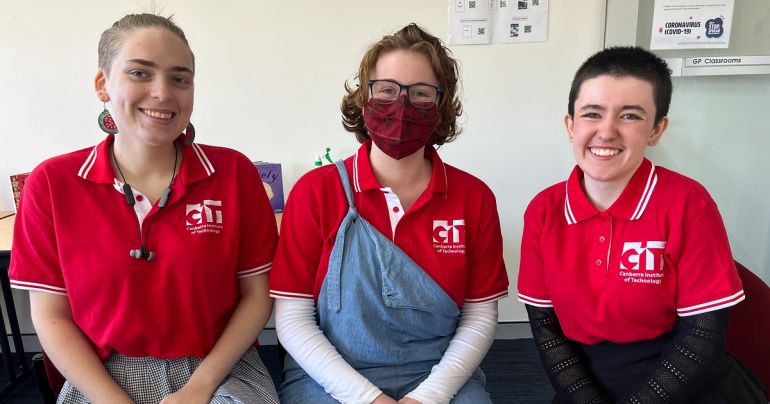 Introducing CIT Fee-Free TAFE students Ava, Annabelle and Jason who are studying Early Childhood Education and Care (CHC30121). Ava, Annabelle, and Jason are learning so much about how children develop, how to care for young children and also how to support families and carers to create a supportive, enriching community for Canberra's children.
"We are learning about child development, psychology, first aid, legal responsibilities and how to create enriching activities for little children including literacy, art and music and play. I love it!" said Annabelle who took a gap year, worked in retail, and now is committed to her new career. Fee free TAFE is really helping her to afford to study too.
Another student Jason said: "I was really stressed about going back to study and the fee-free TAFE option definitely made it less stressful."
Jason previously qualified and worked as a nanny and a photographer for several years and also tutored children in high school, and is currently embracing their new course and change of career. "The practical aspects of this CIT course are brilliant, I am learning so much and the teachers are so supportive, kind, and make the theory come to life. "
Ava worked in a toy shop and always liked children and did some volunteering running childrens' activities at church and is really pleased with her decision.
Plans for the future? These three CIT students are enjoying the new skills they are learning and looking froward to their practical experience in a few weeks at an early childhood centre, applying their theory.
"I prefer a more hands-on learning approach. I like CIT because I get a more practical learning experience than at Uni." Jason said.
"There are also great options, after the Certificate III – to go on to the Diploma of Early Childhood Education (CHC50121) and Care and also to continue study at Uni and qualify as an Early Childhood Teacher.
"I am finding my skills in teaching music and doing homework help with children are really useful for my new course too," said Jason.
"This is just a great option, I am so pleased with the direction my life is taking." said Annabelle.
Fee Free TAFE is a jointly funded initiative of the Commonwealth, state and territory governments.
---