CIT students test skills against Australia's best in trade
Published: 17 Aug 2023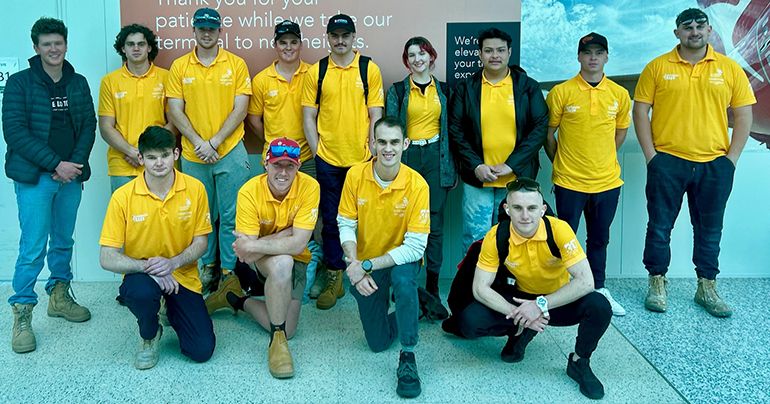 Thirteen apprentices from the ACT region, including 12 from the Canberra Institute of Technology (CIT), will test themselves against Australia's best students in their trades when they compete at the WorldSkills National Championships in Melbourne this week, from 17-19 August 2023.
The 13 ACT competitors, covering 12 different trades, will compete over three days against more than 450 of their peers from around the country at the biennial event, often referred to as the vocational "Skills Olympics".
All competitors earned their spots via regional qualifying events and will be competing to represent Australia at the international WorldSkills competition in France in 2024.
As Australia confronts a national skills shortage, Interim CIT CEO Christine Robertson said an event like WorldSkills had never been more important.
"CIT is focused on building the ACT's workforce of the future that will help industry thrive, and so we are proud to support these outstanding students as they prepare to benchmark themselves against the best young trade apprentices in the country," Ms Robertson said.
"The ACT region is relatively small in population, but the big contingent we have qualified for WorldSkills is testament to our ambitious student cohort and the exceptionally dedicated teachers who mentor them on their career pathways.
"WorldSkills is about more than medals, it's about supporting our students to grow personally and professionally, and to become emerging leaders in industry. WorldSkills helps students refine their technical skills but, importantly, it also develops areas such as problem-solving, time-management, networking, communication and resilience under pressure.
"None of this is possible without the dedicated CIT teachers and industry mentors who guide our students along the way and set them up for success."
CIT students said they had already benefitted from the WorldSkills experience, including expert guidance from teachers and collaboration with industry in preparation for the nationals.
Lachlan Usher, 21, Wall and Ceiling Plastering said: "My teacher Scott [O'Donnell] from CIT has been a massive help and a massive motivator during this whole thing. He's been doing his best in getting me ready and making sure I'm all good to go by spending countless hours going over the plans with me and giving me insight on to how I should do certain things a certain way. He's just been an unreal bloke during my time at CIT."
Caci Mitchell, 22, Retail Baking, said: "It's my own personal mantra that you should always be seeking self-improvement. I saw the regional competition as a great way to get feedback on my baking so that I could improve and I see the national competition in the same way."
Cooper Camden-Smith, 20, Wall and Floor Tiling, said: "Winning a medal at the Nationals would mean a great deal to me. It would be a testament to my hard work and dedication in improving my tiling skills. It would also boost my confidence and give me a sense of accomplishment, knowing that my work has been recognised at a national level."
It's estimated some 10,000 secondary school students, who are contemplating their own career paths, will attend the WorldSkills National Championships over the three days of competition.
The WorldSkills National Championships will be streamed live at info.worldskills.org.au/wsa-live-2023
ACT STUDENT REPRESENTATIVES: Anthony Jenson (Joinery); Billy Stevenson (Painting and Decorating); Caci Mitchell (Retail Baking – Bread); Charlie Elms (Cabinetmaking); Cooper Camden-Smith (Wall and Floor Tiling); Declan Inglis (Plumbing and Heating); Floyd Lucas-Baxter (Refrigeration and Air Conditioning); Hamish Jerks (Electrical Installation); Lachlan Lawrence (Landscape Construction); Lachlan Usher (Wall and Ceiling Plastering); Liam Dowling (Carpentry); Marcus Walton (Landscape Construction); Rifaat Romzi (Cookery).
ACT MENTORS: Michael Blasch (CIT, Landscape Construction); Marty Stallard (CIT, Wall and Floor Tiling); Adam Teer (CIT, Painting and Decorating); Scott O'Donnell (CIT, Wall and Ceiling Plastering); Rolf Barfoed (CIT Cabinetmaking); Dammika Hatharasinghe (CIT, Retail Baking – Bread); David Damour (CIT, Retail Baking – Bread); Marty Jud (CIT, Joinery); Rodney Apps (CIT, Plumbing and Heating); Paul Wright (CIT, Refrigeration and Air Conditioning); Mal Bromley (CIT, Carpentry); Telly Papas (CIT, Carpentry); Brad Walters (CIT, Cookery); Ryan Hanns (Airmaster, Refrigeration and Air Conditioning); Mick Apps (NECA, Electrical Installation); Renard Saunders (NECA, Electrical Installation)
---