CIT students support local charities
Published: 30 Jun 2021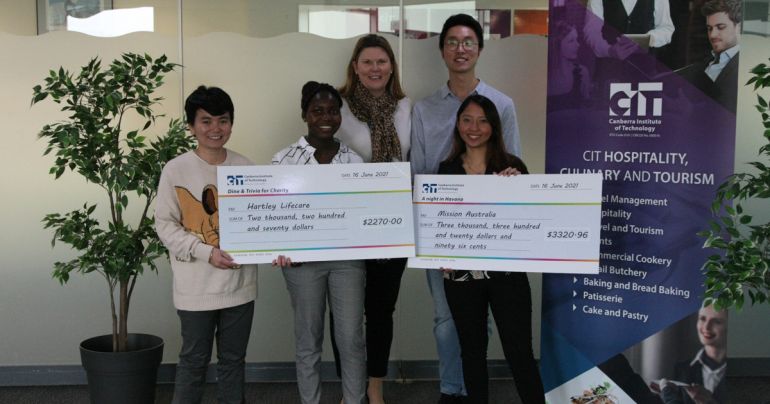 Four CIT students have raised over $5,500 for two local charity groups as part of a project where students develop and manage their own events and learn more about event management and hospitality.
The students who took part in the project not only had the opportunity to learn a variety of real-world skills and apply their training through CIT, but they also had the chance to give back to those who need it. All the money raised through these events was donated to Mission Australia and Hartley Lifecare to support disadvantaged members of our local community.
Diploma of Event Management (SIT50316) student Cyrell Castillo ran her event by herself, raising over $3,300 for Mission Australia. Her event, A Night in Havana, was a themed evening with a three-course dinner at CIT Reid.
"I was working alone so it was really important I was able to work under pressure, especially as I still had study in other areas. It was a big achievement for me. Seeing the happy faces of all the attendees. It was precious," Cyrell said.
Cyrell chose Mission Australia as her charity to support those experiencing homelessness.
"It is really sad to see people in Canberra struggling with homelessness, especially in the winter months. I just wanted to help the community."
Diploma of Hospitality Management (SIT50416) student Celestina Rabi was part of a group of three CIT students who worked together to raise over $2,200 for Hartley Lifecare, a Canberra-based organisation providing supported accommodation for people with disability, their families and carers.
"Working in a group was the best part of organising this event. Everyone had a different perspective, and we were all able to bring a lot of good ideas together to organise a great event," Celestina said.
Like Cyrell, Celestine's group organised a three-course meal for attendees, with the additional excitement of trivia and a raffle. Celestina's team also saw this project as an opportunity to give back.
"All of us come from other countries and we wanted to support the Canberra community. We chose Hartley Lifecare as a way to give back to the community who have been so welcoming to us."
Both Cyrell and Celestina want to thank their teacher, Candace Safi, for all her help and tireless support during their studies.
"I could not have done this without Candace. She was there to support us from day one," Cyrell said.
---