CIT at forefront of targeted jobs growth in ACT
Published: 08 Aug 2023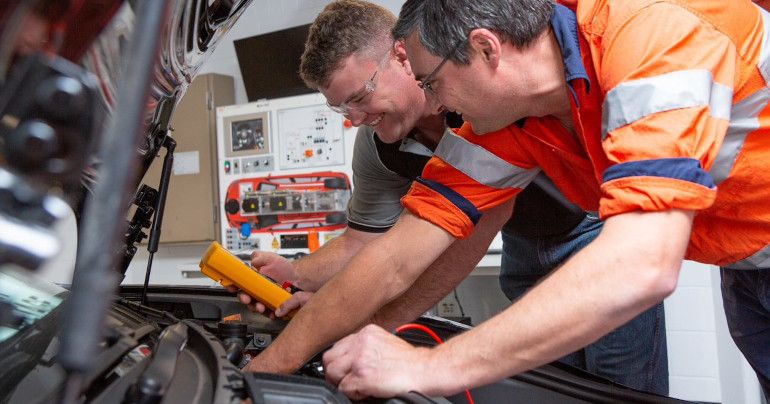 By CIT Interim CEO Christine Robertson
Listening to our educators in the Canberra Institute of Technology's Hybrid and Electric Vehicle Laboratory in Fyshwick recently affirmed my confidence that CIT will continue to be at the forefront of future jobs growth in the ACT.
The ACT Government has set a target to grow the local labour market to 300,000 jobs by 2030, an increase of 35,000.
For tertiary education providers like the CIT, which trains around 20,000 students each year, it's incumbent on us to prepare our community for the jobs of now and the future.
Our education system needs to be attractive and accessible to all, so that it provides career pathways for immediate school-leavers, but also continues to upskill and re-skill those already in our workforce.
The Hybrid and Electric Vehicle Laboratory in Fyshwick is just one such example of how the CIT is working with industry to identify future career needs and is taking a proactive approach to our educational services. There has been an enormous surge in electric vehicles, especially in Canberra. CIT is breaking new ground in Australian TAFE education by preparing the technicians who will service this demand.
There are many other examples. A national news story recently identified a potential shortage of 70,000 welders in the country by 2030, a profession that will be pivotal to the growing Australia's renewables sector and infrastructure projects. So, I was pleased also to walk through CIT's metal fabrication workshop at Fyshwick and see it full of apprentices.
CIT recently expanded our study opportunities in cyber security training. Importantly, this has been done in partnership with industry expertise, ensuring this training is meeting the contemporary needs of the workforce.
This holistic approach is important because education must constantly evolve to meet the growth and diversification required across our jobs market.
I was at the National Press Club in Canberra last month as Federal Education Minister Jason Clare released the Universities Accord interim report. Education, Minister Clare said, is the most powerful cause for good in this country.
Minister Clare also addressed parity of esteem, endorsing that university and Vocational Education and Training are of equal importance to future productivity. The interim report states nine-out-of-10 jobs created in the decade ahead will require TAFE or University education.
Accessibility to this education and training, therefore, is a major theme.
The CIT has had a very strong response to our 2,500 available Fee-Free TAFE places, a joint initiative of the ACT and Australian Governments.
We expect that our new flagship campus being built in Woden, and due to open in mid-2025, will cater for 6,500 students each year. It will provide Smart Campus Digital Infrastructure for state-of-the-art learning experiences and incubator hubs for even greater collaboration with industry and local business. Importantly, it will also feature a Youth Foyer, provide housing for up to 20 at risk youth while they study or train.
The Woden campus will enhance Canberra's vocational education and training network, operating alongside existing CIT campuses in Fyshwick, Bruce, Gungahlin and Tuggeranong.
The CIT opened 95 years ago, as Telopea Park Technical Trades and Infants School in 1928, with a total of 140 students enrolled across the 11 trades on offer. Today, we have some 20,000 students across more than 150 qualifications.
The CIT holds a central place in our community and economy, supplying the ACT workforce with tens of thousands of graduates with essential skills. We will continue to progress as a modern, inclusive, future-focused Institute of Technology, which is essential to developing our workforce of the future.
---