Five minutes with Interior Designer Bianca Lewis
Published: 10 Jul 2019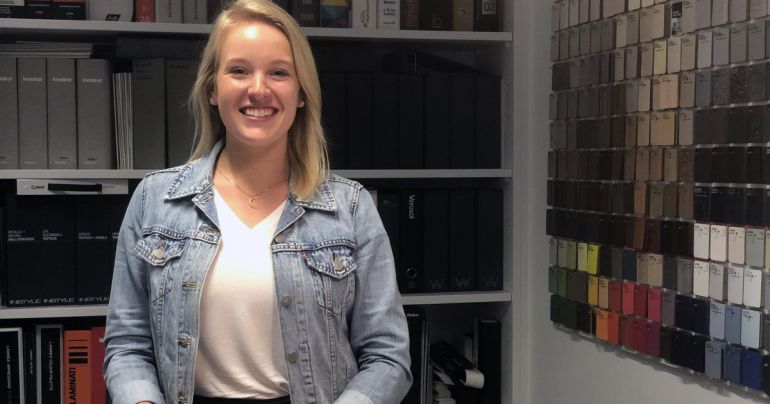 CIT caught up with the recent Interior Design Advanced Diploma graduate on her design inspiration, learning journey at CIT and successful transition to architectural and design practice at IA Design.
How did you land the position with IA Design?
CIT is very good at keeping current job opportunities listed on a pin board for anyone who is interested to apply.
I heard through CIT that IA Design were looking to take on a student for work experience, so I sent an expression of interest email. Following this, the Canberra Director requested an interview at which he offered me a position rather than just work experience. I started working one day a week while I was still studying at CIT and then once classes finished, I picked up work full-time.
Tell us about your role at IA Design
My job title is Interior Designer. At IA Design, most of the projects are commercial and for Government buildings. We occasionally get a hotel, retail space and more recently an exhibition space.
My responsibilities include attending client meetings, developing concepts to match the brief, presenting to the client and documenting the concept outcome. I get to select the finishes for spaces along with the furniture and equipment.
What is the most challenging part of your job?
The biggest challenge I have found in my professional role is presenting to the client. I am generally quite an anxious person especially when it comes to public speaking.
How did training at CIT help you to deal with this challenge?
CIT helped get me through this as they made sure to make presentations part of our assessment both in the concept phase and the final design phase. As much as it can be a daunting process, it made me understand that if I couldn't do it in front of people I know, in a judgement free zone, how could I do it to a client in the real world.
I found the key to getting through it, and something CIT really helped me understand, was that 'It's my design'. As much as I might stress about writing a speech for my presentation, I am the person who knows it the best and the easiest way to present is to breathe and talk through the process of how I got to my final design.
What is your design style and inspiration?
My personal design style would be quite traditional and minimalist. I love working with the layers in a space including lighting and soft furnishings.
I find that Grand Designs and Grand Designs Australia are excellent shows, not only because they are extremely good at thinking outside the box, but they push the boundaries of design in innovative and resourceful ways. It is also very exciting to know that there are amazing pieces of design happening in our country as well as across the world.
I find doing some general research on Yellowtrace.com.au is a good way to collect inspiration nationally and internationally, but I'm also inspired simply by pieces of furniture. I could design an entire space around one piece of furniture.
What lessons are invaluable from your training at CIT?
My learning experience at CIT was very hands-on. This was also the reason I chose to come to CIT over other institutions. CIT really pushed us not to design on the computer because it can limit your ideas, so we were given the opportunity to build models and experiment with our ideas using different materials like cardboard, Styrofoam, timber and foam core.
CIT also made their assessments very realistic, giving us the opportunity to see how the process really works. We used programs that are very much prominent in the industry, like AutoCAD and REVIT. This made the transition from study to work very smooth. Particularly in my second year at CIT, the teachers really pushed us to get the best designs out of us and to show us that there are so many possibilities in the way spaces can work.
Learn about CIT's Interior Design courses.
---