Award-winning teacher inspired by students
Published: 27 Oct 2023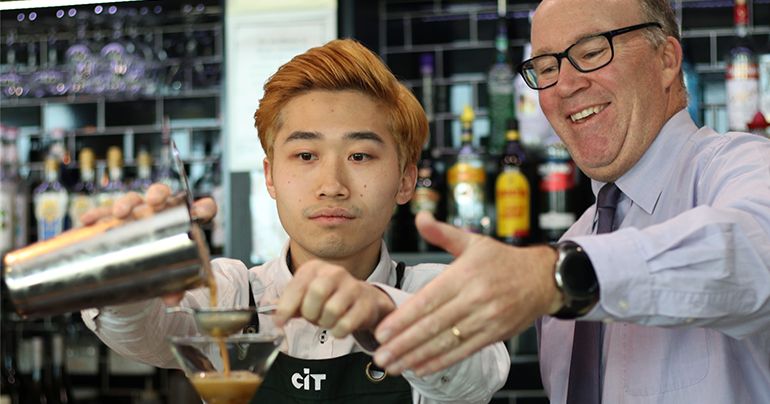 Peter Redfern-Elliott removes his fogged-up glasses and pinches the bridge of his nose to wipe away tears. The thank you card, handwritten by the mother of one of his students, still gets him every time.
'Your willingness, enthusiasm, flexibility and inclusiveness made you a hero, I can't thank you enough,' the card says.
"There's no prouder moment I could have had as a teacher," Peter says, revealing only that this student had a disability. "He made me cry, I feel emotional now, because that was a few years ago, and it still sticks to me to this day.
"That student, they got work in a café, I actually went there after they finished my course. They were so proud they got a job and said to me that I made a difference. They made the difference, because they believed in themself. It meant a lot to me."
They all do, the thousands of students Peter has guided since taking up teaching with Canberra Institute of Technology 15 years ago in hospitality, culinary, tourism and events. The students he runs into on weekends when he's out for coffee or dinner with his wife, who pop over to say thanks or introduce him to their manager.
Peter is ACT Vocational Education and Training Teacher of the Year and will be a finalist at the National Training Awards in Hobart on 17 November. But on World Teachers' Day, October 27, Peter says the greatest recognition any teacher can get is from their students.
"Our teacher Peter was awesome … he is just wow," one writes in feedback Peter keeps.
Another mentions: "he is a very understanding teacher, he is always ready to help in any way possible and he is very caring to all students".
They're all along the same theme. "This program is one of the best things to happen to me ... You have helped me grow into to the person I have become and I'm so grateful for that."
Peter says, "I love coming to work for my students because that's what makes me wake up every day. Honestly, I can say that, from 15 years ago when I first started this job. I remember walking into my first classroom going 'I love this, I just can't get enough of this'. To this day it's exactly the same, nothing has changed.
"My teaching philosophy is about providing an environment that's fun, engaging and where students can feel comfortable and safe and where they can learn through a simulated environment.
"We're very lucky here at CIT because we've got great facilities. We've got live restaurants, live bars, live cafes, it creates that environment for the student to actually be job-ready because it's simulated in that workplace environment.
"We are not just four walls and a classroom, my philosophy is to give every student the opportunity to be the best they can be."
Peter admits he was nervous about leaving a job in hospitality to take up teaching. He maintains a close and ongoing connection with industry, regularly linking with businesses to get practical experience himself in the latest trends. It's about passing on the most relevant skills to his students, but also building employment pathways for them.
With a national skills shortage and a focus on vocational education and training, Peter urged others in industry to consider the value of a teaching career.
"You never stop learning, this industry is dynamic and it's changing all the time," Peter says.
"Hospitality is such a vibrant environment. We need more industry teachers to be able to share their knowledge, experience and their passion to our students. My message would be "don't wait, do it'."
Peter says the greatest reward of teaching is to "make a difference in someone's life."
"Some have different struggles, some have different needs, some have different challenges, barriers … but they're an inspiration to me, that's what makes me strive every day to come to work to be the best teacher I can be. I'm not the best teacher, I'm just one of the teachers that cares and has passion for the vocational education and training sector and the hospitality industry."
---