From communications to cookery - a tasty career change
Published: 31 Jan 2022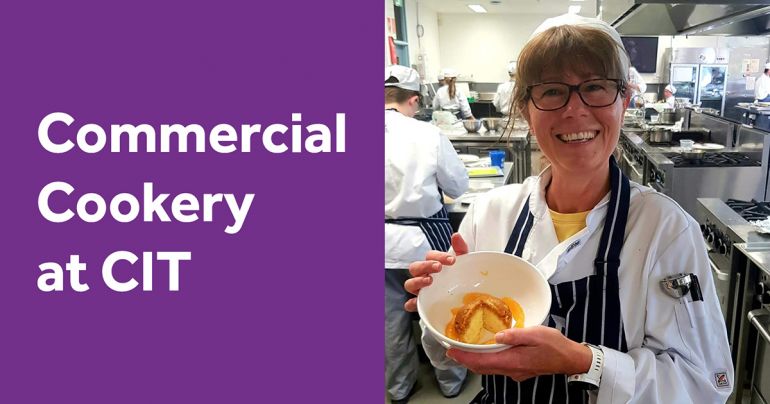 Monica Lindemann has had a long and successful career in communications and social media marketing, but recently her interest in the culinary sector has seen her take a different path - completing a Certificate III in Commercial Cookery (SIT30816) at CIT.
Monica has a degree in Communications, a Master of Business Administration, and has worked in a range of communication, fundraising and marketing roles in Australia and New Zealand.
In 2019, she went on to start Big Bang Social - a business offering communications and social media services to not-for-profit organisations.
"I started Big Bang Social just before COVID-19 hit, so online communications became more important, particularly for charitable organisations," said Monica.

While Monica enjoyed the work, and the shifting needs of organisations meant that she was always kept busy, she found the experience isolating, and missed the face-to-face interaction with colleagues and clients. She then decided on a career change, but while many communications professionals might move into Project Management or give Event Coordination a whirl, Monica had something different in mind.
"I've always been very interested in food, and I've always had an idea for a food business, so I thought 'Well, the first step of any business is to know what you're doing'… so I better learn how to cook!"
Monica decided to complete a Certificate III in Commercial Cookery (SIT30816) to gain the skills she needed to enter the culinary sector. She studied full time as a student, attending classes three days a week and undertaking practical work in CIT's on-campus kitchens.
"A typical day starts with about an hour of theory, then we work in the kitchen. At home, we complete assignments and written tasks, particularly in the areas of food safety and food hygiene - that's a really important part of the course," she said.
In addition to her studies, Monica completed a three-month internship at Monster Kitchen in New Acton.
"Monster is a high-end vegetarian restaurant, and I'm interested in vegetables," said Monica. They took me in as an intern to help me build my industry hours."
The experience Monica gained from working in a vegetarian restaurant positioned her well for her next endeavour - her own vegan pie business.
"I'm looking forward to [creating my business]," said Monica.
"I'm interested in sustainable, healthy food production, so the product range that I have in mind is a range of vegan buckwheat pies. Many people are interested in where their food comes from, for various reasons - health, environmental impact, and animal welfare. There's a growing demand for vegan, sustainable foods."
Monica said her studies at CIT are critical to the success of her business, and that her background in communications and social media marketing will be an advantage.
"There's quite a lot of work in establishing a business before you open. My study at CIT has been an essential part of preparing for that. Having my understanding of marketing and social media will help market the business effectively, because presentation is an enormous part of food appeal, and social media requires quality imagery."
"Despite COVID-19 cutting down face-to-face classroom time, [the students] maintained our connection to each other. We'd keep in touch online and share cooking photos, or challenge each other to make something tricky like a vegan dessert."
When asked for her advice to other people who are looking to make a career change, Monica offers the following:
"If you want to do something, you've just got to step out and do it… the right time, whatever that looks like, might not come. COVID-19 has highlighted this."
"CIT is a welcoming environment. There are all sorts of backgrounds [and] age groups… I'd encourage people who have an interest in something - a little flame in their heart - to just get on it!"
Monica has now completed her studies in Commercial Cookery, and intends to open her new business, Sunshine Pies, in 2022.
---