A clever cyber collaboration for CIT
Published: 05 Mar 2020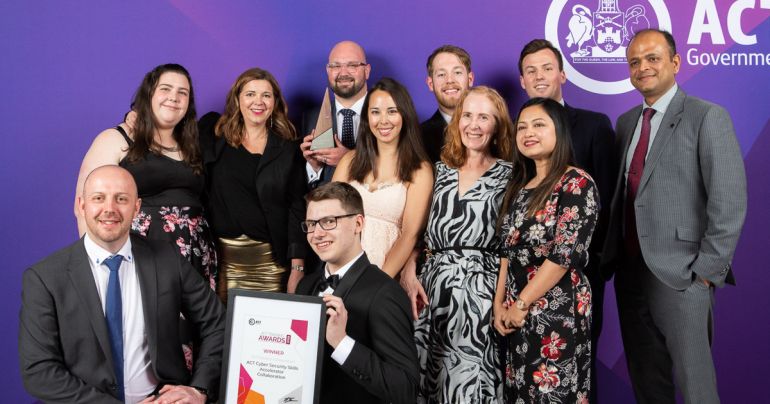 The Canberra Institute of Technology has a long history of collaboration with industry to improve educational and training outcomes for our students, and this was recognised at the 2019 ACT Training Awards.
CIT, with partners FifthDomain and the Australian Cyber Security Growth Network (AustCyber), received the Industry Collaboration Award, celebrating the power of industry collaboration in the revolution of cyber training and education. The collaboration was also a finalist at the Australian Training Awards.
CIT and its partners created the ACT Cyber Security Skills Accelerator program, a collaborative approach to researching and building sustainable cyber training, resources, programs and facilities for the Australian workforce. The aim was to find a solution to the cyber security skills shortage.
CIT's Director of Business Growth and Transformation, Jayne Miller, said the program now provides the ACT with end-to-end cyber security training, improves outcomes for students and shares knowledge with TAFE institutions across Australia.
"CIT is a leader in cyber security training in the vocational education sector. We have moved from no students in the Certificate IV in cyber at the beginning of 2018 to now over 500 students in full qualifications or standalone units of competency," Jayne said.
In 2018, CIT opened a new Training Security Operations Centre giving our students the opportunity to work in simulated environments, which really prepares them for the workforce.
Through FifthDomain's technology CIT teachers could efficiently set up virtual training environments. This technology also allows CIT to easily gather data on students' progress to ensure they are learning the skills they need.
"By collaborating with FifthDomain and AustCyber we have built something really special and we are committed to continuously improving the learning journey for all of our cyber students" Jayne said.
This great collaboration will continue into 2020. Learn more about Cyber at CIT.
---