CIT Fit & Well Student Massage Clinic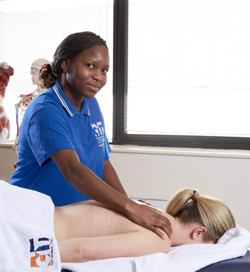 Need a boost in health and vitality?
Our student massage clinics are available to the general public.
All treatments are provided by students and supervised by a qualified health professional in a caring environment.
Sessions will include a thorough assessment and treatment based around your specific needs. Massage provides relief from pain, muscular tension, postural problems as well as relaxation.
Consultations and assessments are used to determine what techniques are used to determine what techniques are best suited to the presenting condition.
---
Health and Safety
Operational changes - COVID-19

The CIT Fit & Well Student Massage Clinic continues to maintain client and staff/student safety as its number one priority. On your next visit you will notice changes to comply with COVID-19 restrictions:
- New campus signage.
- Increased social distancing at reception and staggered appointment times.
- Larger social distancing between treatment tables.
- Maintaining the high quality of infection control between clients and maintaining the professional cleaning of all linen used.
- Our massage students have undertaken infection control training.
- All clients will be required to complete a pre-screening questionnaire prior to the massage.
- Check in on CIT campuses is now compulsory. All staff, students and visitors are required to check in via the Check In CBR app each time they enter a CIT building. Be sure to download the app before visiting us from covid19.act.gov.au/check-in-cbr.

Massage Clinic - Conditions of Entry

Stay home if you are unwell, have been to a COVID-19 hotspot or have been in contact with a suspected or confirmed COVID-19 case.

COVID-19 vaccination notice

If you have recently had a COVID-19 vaccination in the last 72 hours please let reception so we can provide the best care for you. If you feel unwell, please re-schedule at no additional charge.
Opening hours:
Bookings are essential.
Service
Open days and times
Cost
Remedial Massage
Appointment days

Tuesdays 9am - 1pm
Wednesdays 11am-3pm and 3:30-7:30pm
Thursdays 4:30-8:30pm

Appointment start times:
Tuesday - 9am, 9:15am, 10:15am, 10:30am, 11:30am and 11:45am

Wednesday - 4pm, 4:15pm, 5:15pm, 5:30pm, 6:30pm and 6:45pm

Thursday - 4:45pm, 5pm, 6pm, 6:15pm, 7:15pm and 7:30pm
$40 per 1 hour assessment and massage treatment (EFTPOS/card payments only, NO cash)

Current CIT students - $30 per 1 hour assessment and massage treatment (EFTPOS/card payments only, NO cash)
Book now
Bookings are essential for all clinics. Contact (02) 6205 4727 for information and bookings.
---
Find us
CIT Student Massage Clinics are located at CIT Bruce, ground floor of B Block, Room B05, 35 Vowels Crescent, Bruce.
---