International, virtual Zero CO2 Hackathon targets ACT's emissions reduction goal
Published: 02 Sep 2020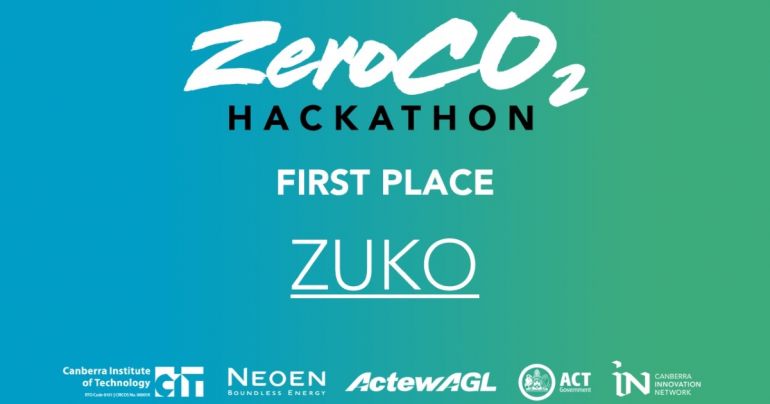 This year's winners of the Zero CO2 Renewable Energy and Sustainability Hackathon have been announced, with Zuko taking first place for their moss panel system that offsets carbon and generates electricity. The Canberra Institute of Technology (CIT) was proud to host this event along partners the Canberra Innovation Network (CBRIN), Neoen and ActewAGL.
Second and third place went to teams Rexergy and OneStopSolar respectively. Both teams are from Canberra.
CIT Business and Industry Engagement Officer, Tamara Duncan, said the event aims to foster innovative and collaborative solutions to support the ACT Government's goal to reduce total carbon emissions to net zero by 2045.

The event was a fitting backdrop to launch the collaboration between Vestas and CIT. It was an opportunity to further their commitment to raise awareness about career opportunities within the renewables sector and to ensure they are at the forefront globally in the training and upskilling of the renewables workforce now and into the future.

"With 18 teams and 71 participants the Hackathon was very well attended, especially given it was held online to allow for COVID-19 restrictions," Tamara said.
"It was great to see so many teams take part from different organisations including CIT, ANU, UNSW, Monash University and Melbourne University, University of Sydney and private companies as well from across Australia. We also had over 20 teams express interest from our Indian institution partner Saintgits."

A Speaker Series complemented the hackathon with thought provoking presentations by industry leaders and academics on climate change and the environment. "These presentations were woven through the program to inform the hackathon contestants and to also provide valuable industry insight. We had 50 register for this series," Tamara said.
CBRIN Collaborative Innovation and Events Associate Cameron Ritchie said seven teams with 32 participants presented to the final judging panel. "Team Zuko presented Mosssol, a moss panel system that combines green walls and solar panels to offset carbon and generate electricity. The louvre window design can be adapted into portable, free standing partition walls in both residential and commercial sectors to help regulate air quality and climate control."
The judging panel from CIT, Neoen, the Environment, Planning and Sustainable Development Directorate and CBRIN had the difficult task of choosing a winner from the very competitive and innovative field. In the end Zuko came out on top, winning $5,000 in prize money. The judges were impressed by all the teams and felt that Zuko have the passion to take this idea further.
---