Vestas' turbine technicians upskill in cyber security
Published: 23 Oct 2019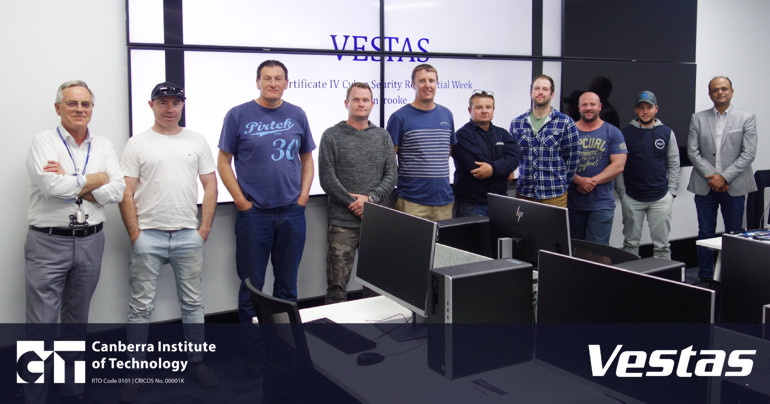 The Canberra Institute of Technology (CIT) welcomed eight technicians from Vestas for cyber security training. CIT works closely with Vestas providing training across a range of areas including Global Wind Organisation (GWO) high-risk training, electrotechnology and now cyber security.
As a wind energy market leader, Vestas' decision to upskill its technicians in cyber security ensures its competitive advantage in the marketplace. "Our customers are interested in the service Vestas can offer in the Information and Operational Technology space as our turbines become more technologically advanced. With CIT's specialised training in various areas, we have found a partner we trust not just now, but for the future," said Glen Wilson, Vestas Area Service Manager.
The Vestas technicians travelled from various locations around Australia to participate in face-to-face training sessions offered by the CIT Cyber Security & Games Department. The in-person sessions complemented the online cyber security training they previously completed over 9 weeks.
Through the training partnership, CIT has provided Vestas technicians with the GWO safety standards whilst working at heights to perform turbine repairs and maintenance. The expansion of the partnership into cyber security allows the Vestas' workforce to create further impact in the renewable energy sector.
Regardless of industry, as businesses are increasingly reliant on digital technology, cyber security training is crucial for any organisation. Dr Abu Barkat, CIT Cyber Security & Games Department Head said, "We are proud to work with Vestas and commend the organisation for taking such proactive approach to upskill their staff in cyber security. We look forward to continue our relationship with them."
In January 2020, CIT will welcome back this group of Vestas technicians to resume their cyber security training.
Learn more about CIT's cyber security courses and GWO certified training.
---