Traineeship helps students thrive
Published: 15 Oct 2021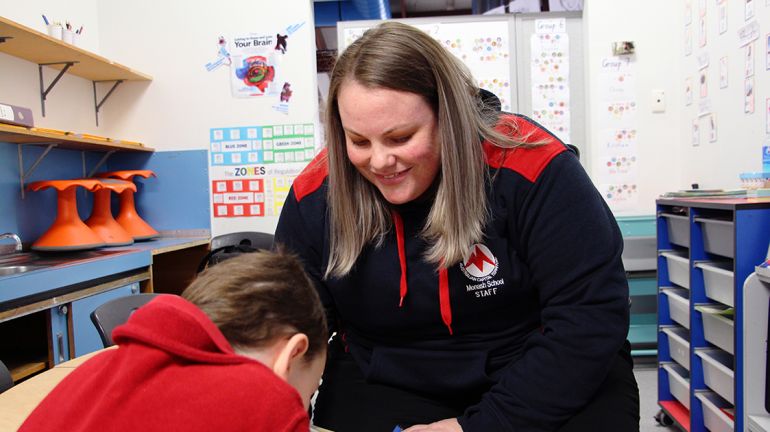 The moment Sophie New stepped into the classroom as a Learning Support Assistant (LSA), she realised she had made the right career decision. Since then, she hasn't looked back.
As an LSA, Sophie assists primary school students with their reading and writing, and simply loves her job. In addition to working as an LSA, Sophie is studying a Certificate IV in Education Support (C4-HC57) and was recently awarded the 2021 ACT Training Awards Trainee of the Year, recognising her skills and commitment to her chosen field.
"The Certificate has really helped build on my skills as an LSA. I can then take this knowledge and strategies back to my school to assist the school community," she said.
Sophie is delighted about receiving the award and encourages others to consider a traineeship.
"I am grateful for being able to achieve my Certificate IV in Education Support through CIT. Vocational Education and Training has provided me with way of learning that suits me, is skills based and relevant to my role." Sophie said.
Recently, Sophie has spent some of her time working remotely, helping students study from home during the ACT COVID-19 lockdown.
"This is a really challenging time for all, and being able to still provide literacy assistance to students while they can't come to the classroom is really important."
Sophie thanks her colleagues at Monash School and CIT teachers Anna Gaspari-Nazor and Helen Barker for providing mentoring and support.
"All our teachers are very knowledgeable in their subjects and this gives us rich industry-geared information and content."
The course has also given Sophie the opportunity to meet LSAs from other ACT public schools and make the most of this networking opportunity.
Sophie will represent the ACT at the National Training Awards in November.
---