Resilient and driven 2020 Aboriginal and Torres Strait Islander Student of the Year
Published: 24 Nov 2020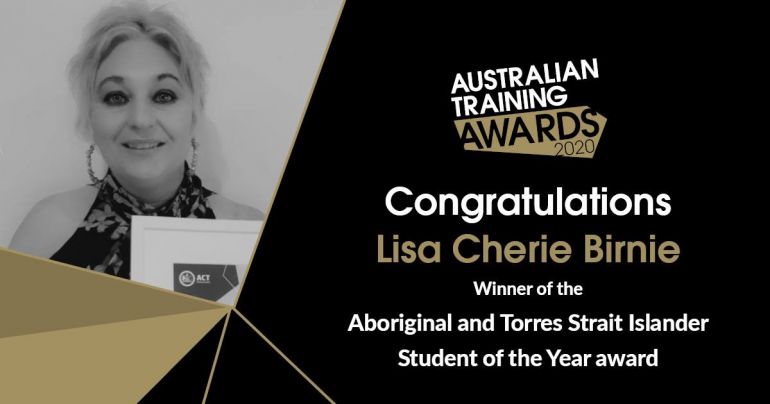 Lisa Cherie Birnie stood out among the competition in the Aboriginal and Torres Strait Islander Student of the Year category at the 2020 ACT and Australian Training Awards. The Awards recognise the best in Vocational Education and Training (VET).
When asked what she was most proud of in her VET journey Lisa said, "My resilience. Over the last two years, I have been through a lot and to come out shining at the other side with this achievement is something I'm very proud of."
Driven to change her career after 12 years working in foster care case management, Lisa participated in the Indigenous Apprenticeship Programme (IAP) of the Commonwealth Government for Aboriginal and Torres Strait Islander people, a pathway to employment with the Australian Public Service (APS). Lisa said, "Being an Aboriginal woman without the advantage of the IAP pathway, I may have never gained employment in the public sector."
As part of the program, she completed the Certificate IV in Government (PSP40116) at CIT Solutions, which led to a full-time Government Officer position within the Department of Defence. "The course equipped me with an occupational-specific understanding of government and the overarching policies and procedures relevant to the work I undertake in my role with Defence," Lisa said.
Lisa, a proud Indigenous woman from the Kamilaroi Nation, is keen to continue working with indigenous communities and encourages other Aboriginal and Torres Strait Islander people to further their studies. "There are many pathways that advantage us in furthering our studies and gaining full-time employment. Rather than focusing on how we are disadvantaged as Aboriginal people, it's important to look at how we are advantaged and use these pathways to enhance our prospects," Lisa said.
The inspiring role model is following her own advice. Lisa is now participating in the National Aboriginal and Torres Strait Islander Leaders Program, which she will complete in January and is aiming to commence a diploma qualification next year. She said, "VET creates opportunities for vulnerable Indigenous people to succeed. Skills training provides so many opportunities and helps to bring down barriers and disadvantage."
---