National Reconciliation Week at CIT 2022
Published: 17 May 2022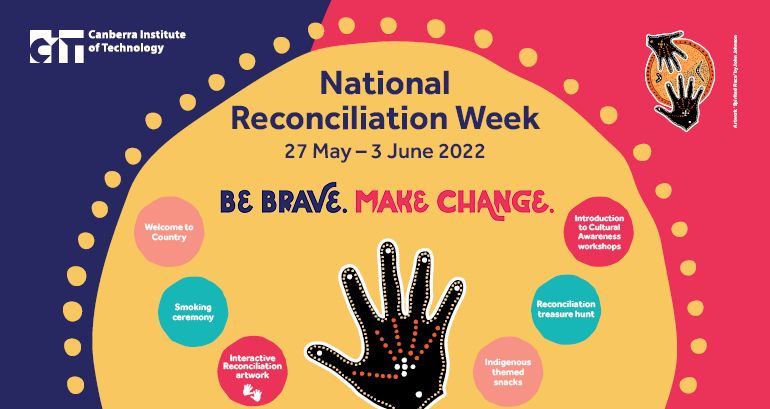 You are invited to attend National Reconciliation Week events at CIT from Friday 27 May to Thursday 2 June. This year the National Reconciliation Week 2022 theme, "Be Brave. Make Change." is a challenge to all Australians - individuals, families, communities, organisations and government - to Be Brave and tackle the unfinished business of reconciliation so we can Make Change for the benefit of all Australians.
This is a time to learn about our shared histories, cultures, and achievements. Events across CIT campuses include a Welcome to Country, Smoking Ceremony, snacks with Indigenous themes, painting, a Reconciliation treasure hunt and a plant identification and tree planting stand. We will also be running free Introduction to Cultural Awareness workshops after the main celebrations to encourage the community to "Be Brave. Make Change.".
We encourage all students, staff and members of the community to join us for one or all of our events:
Friday 27 May, 12 - 2pm CIT Reid Quadrangle
Monday 30 May, - Public Holiday and community event at National Arboretum from 10am - 3pm
Tuesday 31 May, from 12pm CIT Bruce outside Café Yala
Wednesday 2 June, 9 - 10am CIT Fyshwick outside Café Yala
Thursday 2 June, 12 – 1pm CIT Gungahlin
Thursday 2 June, 9 – 10am CIT Tuggeranong
FREE Introduction to Cultural Awareness workshops. (Please note. This is a non-accredited workshop specifically for National Reconciliation Week. Participants will not receive any certificates of attendance/completion.)
Take a look at our Indigenous book collection.
---