Students explore behind-the-scenes forensics at CIT
Published: 13 May 2019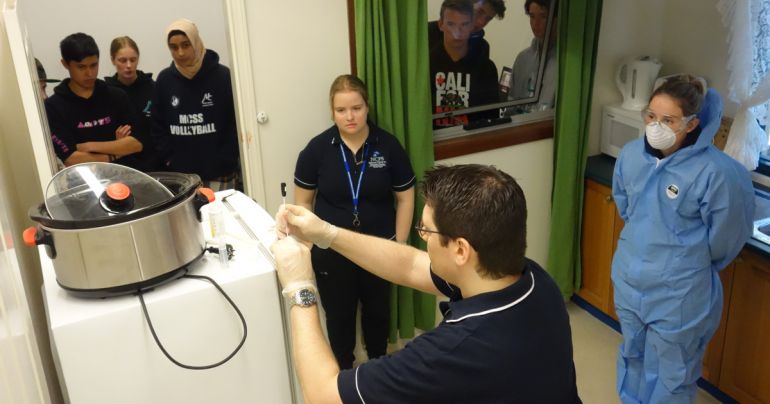 The bi-annual Forensic Schools Day event gives students from local schools and colleges a unique chance to see behind-the-scenes of crime scene facilities and get hands-on with forensic science equipment.
CIT CEO Leanne Cover said exposure to this fascinating environment helps students to get a better understanding of forensic science beyond what they may encounter in their day-to-day lives.
"Forensics qualifications can open the door to many exciting industries and a diverse range of career opportunities," Ms Cover said.
"CIT has an on-site forensic house for students to develop practical skills and the training technology is first-class, with excellent industry connections and pathways for industry collaboration."
The National Centre for Forensic Studies is a partnership between CIT, University of Canberra and the Australian Federal Police.
Working on both a local and national level, the centre develops and delivers enhanced education, training and research opportunities for the benefit of both the partner agencies and the wider forensic science community.
"Students enjoyed a tour of the crime scene facilities, mock scenarios and demonstrations of equipment such as the polilight and a fingerprinting exercise using casts and powders."
"A summary of the CIT forensic programs and study requirements was also provided to interested students, presenting our young people with options about their pathways and futures to make informed decisions."
More information about CIT's Forensic courses is available on our website.
---