Enter CIT shop of the future
Published: 20 Nov 2023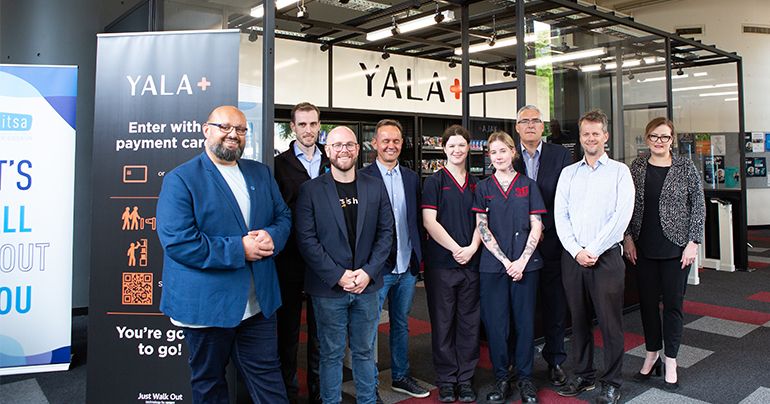 The Canberra Institute of Technology Student Association (CITSA) today announced the launch of a new campus convenience store, YalaPlus, at the CIT Bruce Campus, enabled by Amazon's Just Walk Out technology. CIT is the first education institution in the southern hemisphere to deploy Amazon's Just Walk Out technology.
Amazon's Just Walk Out technology, uses artificial intelligence (AI) like computer vision and deep learning techniques to accurately determine what shoppers take or return to shelves, and simplifies the shopping experience by removing checkout lines - helping students to get in and out quickly and seamlessly.
The technology uses synthetic datasets that mimic millions of realistic shopping scenarios - including variations in store format, lighting conditions, and even crowds of shoppers - to ensure accuracy in virtually any environment. Cognizant helped provide the solution integration to ensure seamless payment options for students.
At YalaPlus students will enter the store using their credit card or mobile wallet at the entry gate. Amazon's Just Walk Out technology then detects what they take from or return to the shelves, and creates a virtual shopping session. When students complete their shopping, they can leave the store without waiting in line, and their credit card gets charged for the items they take.
CITSA chief executive officer, Andrew Scotford, said the innovative stores would create an improved and more flexible student experience.
"Amazon's Just Walk Out technology will benefit all students, especially those studying outside of regular business hours," he said. "Many CIT students are balancing work, study, and training, so flexibility and accessibility are important to them. There are also 48 students who live on the CIT Bruce Campus that don't have easy access to nearby shopping. YalaPlus now offers convenient access to products such as food, beverages, and other essential items. In early 2024, we plan to open two more stores at CIT campuses, at Fyshwick and at Bruce."
CIT interim chief executive officer, Christine Robertson, said the Institute, which is now in its 95th year, is entering an exciting era of progress.
"CIT will open a new state-of-the-art, digitally connected Woden CIT campus in 2025, but innovation doesn't wait. We're committed to uplifting our existing facilities and experiences for students and staff," she said. "CIT welcomes this innovation that appeals to the tech-savvy students of today."
Melbourne's Marvel Stadium is home to two other locations using this technology in Australia.
Amazon vice president of Just Walk Out technology, Jon Jenkins said: "We congratulate the Canberra Institute of Technology Student Association on their pursuit to improve the student experience on campus with the latest in checkout-free technology. We're delighted to collaborate with the Student Association to introduce Just Walk Out technology at YalaPlus convenience store, a first-of-its-kind implementation in a higher education institution in Australia. Amazon's Just Walk Out technology will deliver a new level of convenience to students, enabling them to access refreshments and food day and night with minimal wait times."
---