CIT success at ACT Training Awards
Published: 15 Sep 2023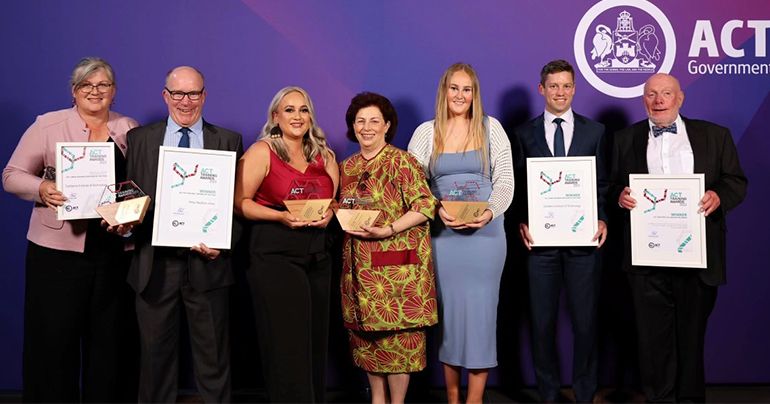 Canberra Institute of Technology (CIT) has won five categories at the 2023 ACT Training Awards overnight, recognising CIT's excellence across teaching, student experience and industry collaboration.
The ACT Training Awards celebrate the outstanding achievements of the territory's vocational education and training (VET) sector, with a capacity crowd attending the ceremony at the National Museum of Australia.
CIT won ACT Large Training Provider of the Year, while CIT teachers, students and industry partners also took out individual and collaborative awards.
ACT VET Teacher of the Year, Peter Redfern-Elliot (Hospitality, Culinary, Tourism)
ACT Australian School-based Apprentice of the Year, Poppy Chalmers (Community Services)
ACT Aboriginal and Torres Strait Islander VET Student of the Year, Emma Brown, Indigenous Apprenticeship Program (IAP) with CIT Solutions
ACT Industry Collaboration Award, Women in Construction Program (Lendlease Construction ACT, Australian Training Company, Ginninderry SPARK, Creative Safety Initiative and CIT collaboration)
Interim CEO Christine Robertson said it was strong endorsement for CIT's progress.
"It is a symbol of the passion, dedication, drive and vision of the teachers, staff, and students of this proud institution," Ms Robertson said. "These awards reflect our excellence and relevance in teaching and training. They show our dedication to student services and career pathways, our strong connections with government, industry and local business, and our commitment to the upskilling and diversification of the ACT workforce."
Peter Redfern-Elliot has taught at CIT for 15 years and credited his peers and students for his award.
"My students, that's what makes me wake up in the morning and want to come to work every day, seeing them thrive and grow in confidence," Peter said. "It's about inspiring the next generation of hospitality professionals to be the best they can be.
"CIT is the best place I've ever worked, the community of people I work with, and the environment I work in, is so positive … we all support each other."
Poppy Chalmers would accompany her older sister Sky, who has cystic fibrosis, to hospital throughout their childhood. It inspired her to study Allied Health Assistance and Community Services with CIT and Dickson College as part of an Australian School-Based Apprenticeship.
"For the first 18 years of Sky's life we spent probably all up a month in hospital each year and I was always there," Poppy said. "I saw the impact different health practitioners had on patients and their families and how vital that is for their wellbeing and care. It's something I really want to be part of.
"Studying at CIT really opened my eyes to what's out there, what's needed and what different health professions do. My teachers were incredible."

Emma Brown says she was daunted to begin the Indigenous Apprenticeship Program (IAP) with CIT Solutions as a single mother, but said it had been life-changing for her and her 11-year-old son, Zachary.
"I wanted to show him good work ethic and that anything's possible if you put your mind to it," Emma said. "The IAP was about creating a better future for me and my son.
"I'm dyslexic so I was always told I can't do things and people tried to limit me. So, this study has built my confidence, to show I really am capable. When people say you can't, well you can, you've just got to believe in yourself."
Head of Department for CIT's Building and Construction Management, Engineering and Design team, Tony Cowlishaw joined industry partners in accepting the ACT Industry Collaboration Award.
The Women in Construction program was initiated last year as a collaboration between industry, Government and education to address the under-representation of women in building and construction. Every single one of the 15 initial students from the inaugural program have graduated to paid traineeships or further study, and a second program is set to commence later this year.
"Collaboration with industry is what makes our training worthwhile," Cowlishaw said. "We, in Canberra, have one of the best, most innovative construction industries in the country who are so supportive to our students. Without them, we couldn't do what we do."
---