CIT finalists in Australian Training Awards
Published: 17 Nov 2023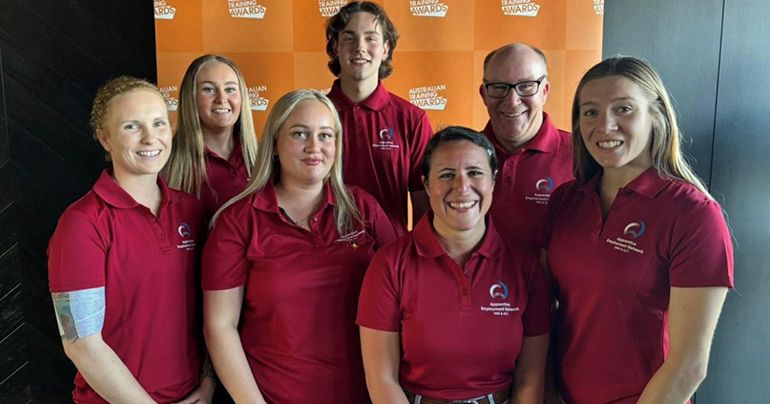 Canberra Institute of Technology (CIT) will be represented by three finalists at the Australian Training Awards tonight, November 17, recognising national excellence in vocational education and training.
CIT teacher Peter Redfern-Elliot joins CIT students Poppy Chalmers and Emma Brown as finalists for the peak national awards, this year being staged in Hobart.
CIT Interim CEO Christine Robertson congratulated CIT's representatives, who each took out their respective categories at the ACT Training Awards earlier this year.
"CIT is so proud to have these three finalists at the Australian Training Awards because they embody CIT's commitment to delivering the highest quality vocational education and training," Ms Robertson said. "Australia is facing an enormous skills challenge and CIT is a big part of the solution when it comes to driving the ACT's workforce and economy forward. This may well be one of the most important times in CIT's history and so we are focused on teaching excellence that can ultimately support student success."
Peter Redfern-Elliot, finalist VET Teacher/Trainer of the Year (Biography here)
Peter has been teaching at CIT for 15 years in Hospitality, Hotel, Travel, Tourism and Events Management programs. He has also been a Pastoral Care Officer for nine years, providing wellbeing and academic support to international students.
"My teaching philosophy is about providing an environment that's fun, engaging and where students can feel comfortable and safe and where they can learn through a simulated environment," Peter says. "We're very lucky here at CIT because we've got great facilities. We've got live restaurants, live bars, live cafes, it creates that environment for the student to actually be job-ready because it's simulated in that workplace environment. We are not just four walls and a classroom, my philosophy is to give every student the opportunity to be the best they can be."
A story on Peter is available here.
Poppy Chalmers, finalist Australian School-based Apprentice or Trainee of the Year (Biography here)
Poppy undertook an Australian School-based Apprenticeship with Indigenous Allied Health Australia, completing studies in Allied Health Assistance at CIT under a new program in the ACT called the National Aboriginal and Torres Strait Islander Health Academy. Poppy then progressed to study in Community Services.
"It was the push I needed to stay in school, and it gave me a lot of life skills in general," Poppy says. Poppy was inspired to pursue her study by her older sister Sky, who has cystic fibrosis "For the first 18 years of Sky's life we spent probably all up a month in hospital each year and I was always there," Poppy said. "I saw the impact different health practitioners had on patients and their families and how vital that is for their wellbeing and care. It's something I really want to be part of."
Emma Brown, finalist Aboriginal and Torres Strait Islander Student of the Year (Biography here)
Emma, a proud Ngemba woman, joined the Indigenous Apprenticeship Program in the Australian Public Service where she studied a Diploma of Government with CIT Solutions. After completing her Diploma, Emma secured a permanent position as a Customer Service Officer at the Civil Aviation Safety Authority.
A single mother, Emma said it had been life-changing. "I wanted to show [my son] good work ethic and that anything's possible if you put your mind to it," Emma said. "The IAP was about creating a better future for me and my son. I'm dyslexic so I was always told I can't do things and people tried to limit me. So, this study has built my confidence, to show I really am capable. When people say you can't, well you can, you've just got to believe in yourself."
The Australian Training Awards will be held from 6pm-11pm Friday and live streamed at www.AustralianTrainingAwards.gov.au
---