CIT celebrates National Reconciliation Week
Published: 03 Jun 2022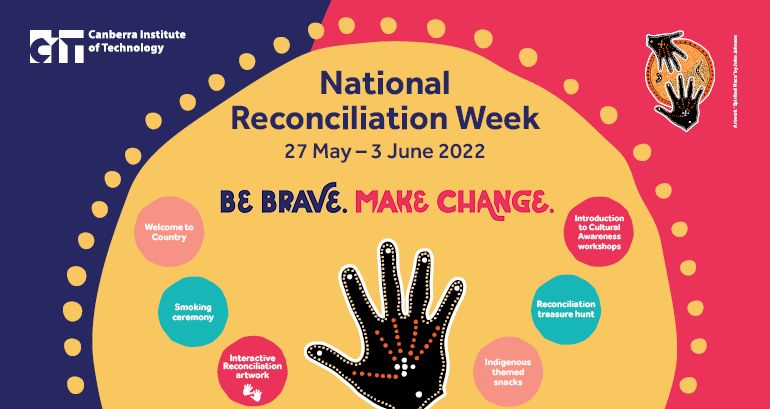 CIT staff and students recently celebrated National Reconciliation Week 2022 with a number of events and activities across CIT campuses, as part of CIT's ongoing commitment to supporting Aboriginal and Torres Strait Islander people.
National Reconciliation Week is a time for all Australians to learn about our shared histories, cultures and achievements, and to explore how each of us can contribute to achieving reconciliation in Australia. The theme for National Reconciliation Week 2022 was, 'Be Brave. Make Change.' which challenges all Australians to tackle the unfinished business of reconciliation so we can make change for the benefit of all Australians.
This year CIT celebrated with events across campuses, including free Introduction to Cultural Awareness workshops after the main celebrations.
The sessions were opportunity for the CIT community to reflect on the purpose of Reconciliation Week and to engage in discussion around cultural awareness with a focus on how we can all contribute to achieving reconciliation in Australia.
Other events across CIT included a Welcome to Country, Smoking Ceremonies, snacks with Indigenous themes, painting, a Reconciliation treasure hunt and a plant identification and tree planting stand.
CIT Libraries also promoted their Indigenous collection during Reconciliation Week, including both fiction and non-fiction.
With over 1000 Aboriginal or Torres Strait Islander people currently studying at CIT, these National Reconciliation Week celebrations are a timely reminder of the part CIT can play in supporting Indigenous people in our community.
CIT has a long history of supporting Aboriginal and Torres Strait Islander people and creating opportunities for students and staff to succeed. As well as providing educational support, CIT also provides scholarships for Aboriginal and Torres Strait Islander students to improve access and outcomes.
A major part of our support for Aboriginal and Torres Strait Islander people is CIT Yurauna. CIT Yurauna is a community focused multi-functional cultural education centre that brings individuals together to learn in a culturally safe environment. It also serves as a gathering place that provides opportunity for people to find real solutions.
Learn more about the services and support offered by CIT Yurauna and the CIT Library's Indigenous collection.
---