Changing paths led Amelia to ACT Trainee of the Year Award
Published: 26 Sep 2019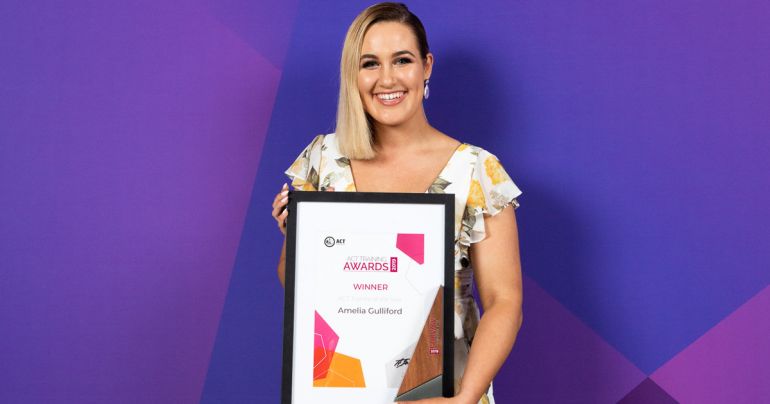 Amelia Gulliford is the winner of the 2019 ACT Trainee of the Year Award. She seized the opportunities provided by the Canberra Institute of Technology (CIT) to learn, adapt and reinvent herself through her exciting career journey.
A disciplined dancer, Amelia completed a Diploma of Beauty Therapy (SHB50115), which led to a management position at a prestigious beauty salon. Looking for new challenges, and with an understanding of how her Vocational Education and Training (VET) qualifications contributed to her previous achievements, Amelia decided to pursue a traineeship through a Certificate III in Business Administration (BSB30415) to build upon her organisation and liaison skills.
The opportunity to undertake training through a traineeship allowed Amelia to study and gain experience on the job. Amelia's traineeship was designed in consultation with her team leader and CIT trainer. "We discussed the units that were available to me and chose those that would help me learn new skills through formal training and within the workplace," Amelia said.
The program enabled Amelia to work closely with colleagues in a supportive professional environment. "It was inspirational to learn about the roles and career progression many of my colleagues had achieved through their own involvement in traineeships," she said.
After Amelia's traineeship concluded within CIT's Training Initiatives Unit, she had the skills and experience to gain employment as an industry Liaison Officer for Australian Apprentices within ACT Government where she promotes and supports the growth and retention of ACT apprentices and trainees.
Determination, commitment to professional development and a strong goal setting approach have fuelled Amelia's career path. Her success also demonstrates the value of a VET qualification to help students to adapt to shifting interests and circumstances and help them pursue their goals one dream at a time.
Amelia will progress to the Australian Training Awards to be held in Brisbane on 21 November.
---