Celebrity chef pays a visit to CIT
Published: 03 Feb 2021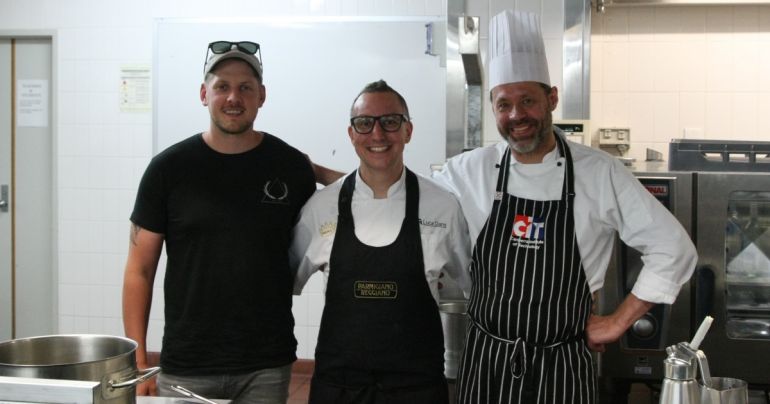 CIT Commercial Cookery students were recently treated to a special visit from celebrity chef Luca Ciano, who presented a Parmigiano Reggiano Masterclass.
Luca's presentation covered the regulations and rules of production for the classic Italian cheese, as well as a three-course degustation. The chef came down to Canberra for a single day to speak with students, who found the experience invaluable.
Luca has done similar classes with other training providers, but this is the first time he has been to CIT. "It is fantastic to come here. CIT has a great set up, and there is a lot of value in talking to students."
"It is great to be able to share my knowledge with students and help them move forward in their careers, as one day they will be running kitchens and ordering products. I try to use the dishes I make in class as a vehicle explain the products I am using," Luca said.
Luca was invited to present at CIT by Commercial Cookery Teacher David Bain. The pair worked together at the Sheraton on the Park in Sydney, nearly 20 years ago. "I met Luca in 2000. He showed me a lot of simple skills that I would need as a chef. I looked up to him, as he took the time to share his knowledge and passion."
"I hope this class has inspired our students to want to learn more. Having an expert like Luca come in to share their knowledge is really important. Even the teachers who attended learned something new," David said.
CIT Commercial Cookery student Timothy Daly helped prepare some of the dishes Luca shared with the class, including poached pears and parmesan foam, and said he found the class to be a great addition to his studies.
Once he graduates Timothy plans to run his own culinary business. "CIT is really giving me the skills I will need, and it is really great to get that extra level of knowledge from people like Luca."
Learn more about Commercial Cookery at CIT.
---