CIT wins Industry Collaboration Award at the 2021 Australian Training Awards
Published: 03 Dec 2021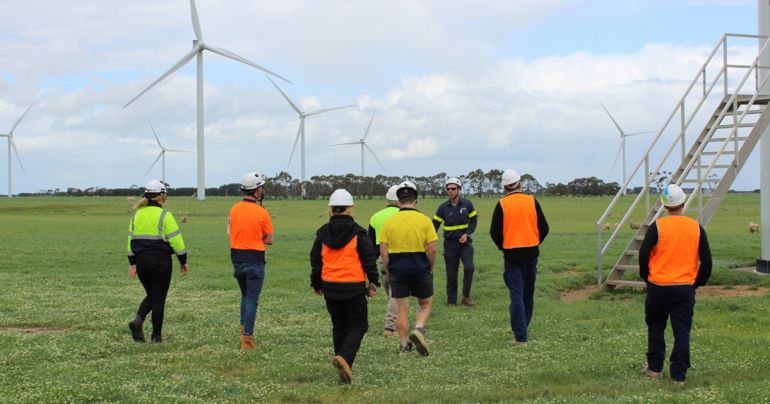 The winners of this year's National Training Awards for Vocational Education and Training (VET) were announced recently.
CIT took home the award in the Industry Collaboration category for its Renewable Energy Industry partnership with Neoen and Vestas - both global leaders in this exciting and evolving industry sector.
CIT's CEO Leanne Cover thanks our industry partners for their commitment, time, shared ambition and passion to grow the renewables energy sector by developing a skilled workforce for this rapidly moving industry.
"We are leading change in the VET sector by working together with many emerging industry sectors and this collaboration is an example of the innovative and sustainable ways we approach our partnerships."
"We look forward to continuing to build sustainable networks, training opportunities and career pathways for jobs in the global renewables industry and increase Canberra's capacity as a national tertiary education and trade skills hub."
"I am also proud of the hard work and commitment displayed by the CIT staff involved in the collaboration and the part they have played in winning this award."
Four CIT students were also acknowledged as finalists across a number of categories including:
Philip Khalu-Reindl, Diploma of Government and IAP Apprentice: ACT Aboriginal and Torres Strait Islander Student of the Year
Morgan Sutton, Cert III in Electrotechnology: ACT Apprentice of the Year
Sophie New, Cert IV in Education Support and Trainee LSA, Monash School: ACT Trainee of the Year
Banda Ramadan, Cert IV in Cybersecurity: ACT Vocational Student of the Year.
CIT was so proud to see our students recognised for their hard work and dedication on the national stage and we can't wait to see them continue to be fantastic ambassadors for VET and the exciting careers it can lead to.
To learn more about the Australian Training Awards, visit their website.
---