CIT Twilight Enrolment Session
Published: 23 May 2023
Thursday 8 June 2023, 4-6:30pm
CIT Bruce Hall, Building H
Are you ready to transform your future with training or study? With a wide range of courses commencing in Semester 2 2023, CIT can equip you with the industry-aligned skills you need to kickstart your dream career today!
Come along to the CIT Twilight Enrolment Session on Thursday 8 June to explore your interests and discover which CIT course best suits your needs and career aspirations.
You'll have the opportunity to speak directly with teachers and student support staff to learn more about your options and get answers to your course and enrolment questions.
If you find the course that's right for you, there's no need to wait - you can enrol on the night. Our friendly team will be on-hand to help guide you through the enrolment process.
When: Thursday 8 June 2023, 4-6:30pm
Where: Hall, Building H, CIT Bruce (free parking on-site)
To register online, visit: Twilight Enrolment Session: Canberra Institute of Technology (cit.edu.au)
Can't wait?
CIT offers direct enrolment for most courses. Semester 2 enrolments are open now so if you already know which course you would like to study, why wait? Enrol now
Can't make it?
If you can't make it to the Twilight Enrolment Session and have questions or need help with the enrolment process, please contact CIT Student Services: infoline@cit.edu.au | (02) 6207 3188 | cit.edu.au/livechat
Twilight Map of CIT Bruce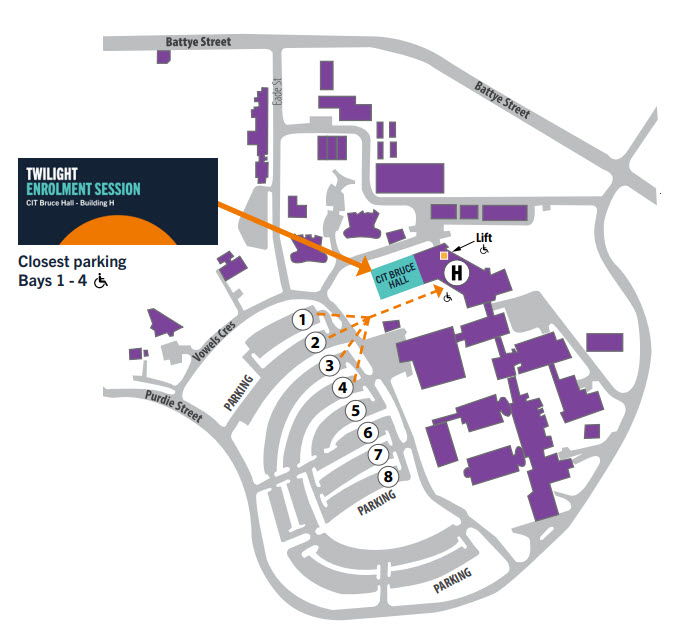 ---