Joining the Library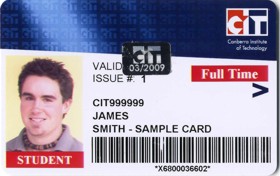 CIT Staff and Students
All CIT staff and students are members of the Library. Students need to present their CIT Card at any Library to access resources and services.
Members of Other Educational Institutions
The Library has a number of reciprocal agreements with other educational institutions around Australia, including some distance education institutions, Universities and TAFEs. Students or staff at these institutions may be able to join the CIT Library as a courtesy borrower and vice versa. Contact the Loans Desk at any Campus Library for further details. Some restrictions on use may apply.
Community members
Members of the community may also join the Library for an annual fee of $121 GST inclusive. Contact the Loans Desk at any Campus Library for further details. Some restrictions on use may apply.
Overdues & Banner Library Holds
Library borrowers are responsible for returning or renewing library materials by their due date. Borrowers receive two overdue notices about the late return of items between 8 and 28 days of the item being overdue. Videos and Short Loan items that are overdue are followed up on a weekly basis via telephone by Library staff.
Banner Library Hold
Students with items overdue more than 36 days have a Library Hold placed on their Banner Record. A Library Hold on a student's Banner record prevents a borrower from borrowing from any CIT Library until all items are returned or replaced.
Students are also unable to access grades or academic transcripts. A library hold may ultimately prevent a student from graduating until the material is returned or the replacement cost is paid. A Library Hold does not stop a student enrolling and continuing with their planned program of study.
Charges
Borrowers are liable for charges incurred to repair or replace an item that is damaged or lost. Please refer to your closest Campus Library for more information.
Concerns
Any concerns regarding overdue items and Library Holds are to be referred to your Campus Library staff.
More Information
Contact your local Campus Library for more information on overdues and Banner Library Hold.